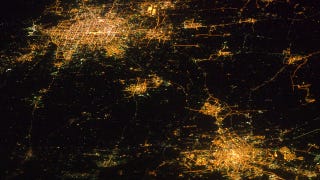 Miss out on some of the excitement? Here are the best io9 stories of the day!
Photo of Beijing taken from the International Space Station, via NASA.
Supernatural is back in the saddle with virgins and gold
From the terrific opening montage to the solid pacing and great one-liners, last night's Supernatural hit it out of the park. "Like a Virgin" was our first taste of the series after a long winter break, and we were rewarded for our patience with an intriguing new big bad, plus the best monsters ever out of a whole season of monstery weirdness. And we got our first glimpse of Sam with his soul back. Spoilers ahead!
---
According to the Montreal Gazette, Canada would be a drugged-up dystopia by 2000 AD
Remember back in the year 2000 when you'd feed your brat kids their breakfast pellets, head to work under the city's weather controlled dome, your computer overlords only knew you by your nine digit identification number, and you'd end your day fantasizing about a life before computers?
---
The Avengers mystery woman is revealed! (Spoilers)
Several days ago, Samuel L. Jackson hinted that S.H.I.E.L.D. head honcho Nick Fury would be bringing on a female sidekick in Joss Whedon's Avengers flick. Now we know who she is.
---
Space exploration is adorable in "Ellie on Planet X"
If the Phoenix Mars Lander had been an adorable robotic cat high on the spirit of adventure, she might have resembled Ellie of the webcomic Ellie on Planet X. Ellie tours a distant planet — and beams back charming footage.

---
If Tesla built an Arctic citadel, it might look something like this
Photographer Dmitry Mordolff took these astounding shots of a snow-covered electromagnetic field testing station, or "Tesla's bench," in Istra outside of Moscow. All it takes is a dab of blizzard to transform electrical equipment into a hyper-futuristic snow fortress.

---
Fringe gives us the most important love triangle in two universes
Fringe doesn't do anything normally, so it makes sense that television's best freak show would do love triangles in a skewed, horrifying fashion. Last night, we learned a lot more about the show's central romantic dilemma... and it all spelled more heartache for Olivia Dunham.

---
Never-made 1980s action figures turned Robin into Mad Max (and Batman into Lord Humungus)In the 1980s, toy manufacturer Kenner produced the Super Power collection of action figures for DC Comics. In an effort to capitalize on the Mad Max craze, Kenner also drafted designs for a line of "anti-hero" toys that recast DC heroes like Superman and Wonder Woman as leather-sporting ruin dwellers.
---
Fanciful submarines for your tinkering underwater civilization
In a future where we cruise back and forth between our underwater cities in lovingly hand-crafted vessels, we can look forward to Andrew George Brown's "Fanciful Submarines," whimsical boats that fin through the waters and creep across the ocean floor.

---
Watch a meticulous fan-assembled documentary of the Star Wars trilogy
Using snippets of behind-the-scenes footage, interview commentaries, and concept art, videographer Jambe Davdar has assembled an awe-inspiring YouTube play-by-play of the Star Wars trilogy.

---
Darren Aronofsky's next project is Noah, a Biblical apocalypse comic book
Black Swan helmsman Darren Aronofsky is plenty busy with The Wolverine for time being, but in 2012 the director will release Noah, the comic book incarnation of one of his unproduced film projects.
---
No, hackers can't open Hoover Dam's floodgates
The U.S. Bureau of Reclamation is shooting down a key legislative talking point: that the internet "kill-switch" legislation is needed to prevent cyberterrorists from opening the Hoover Dam's floodgates.

---