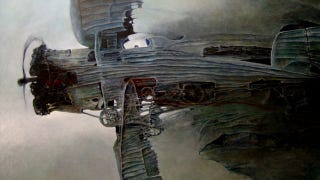 Polish surrealist Zdzisław Beksiński managed to combine despair, horror and decay with beauty and awe during his "fantastic period" of the 1970s through early 80s. We've got a sampling of his most haunting, disturbing work.
Beksinki moved through several artistic phases in his life, but he is best known for the vivid paintings he began creating in the late 60s. They seem to depict a nightmarish world filled with colossal, crumbling architecture and misshapen skeletal figures decaying into their surroundings. Beksinski painted with incredible attention to detail, weaving intricately textured hair, dust, cobwebs and strange organic growths through every inch of a piece.
None of these works are titled, and Beksinski refused to assign specific meanings to individual paintings. He felt that he was capturing a certain atmosphere or mood, and often claimed that his works were optimistic or even humorous. Still, it isn't difficult to spot the Holocaust horror and the agonies of war in many pieces – not surprising for an artist who came of age in Poland in the midst of World War II. His masochistic sexual tendencies turn up as well, although they are more pronounced in the sketches he made in the 60s, and may have been the subject of the paintings he burned in 1977 for being "too personal." Still, in a letter he once fantasized about a future where virtual reality would allow him to experience being tortured and murdered by Britney Spears every day, then "wake up relaxed."
In the mid-80s, Beksinski turned to photo collages and digital photo manipulation. The resulting work was not as popular as his fantastic period. Sadly, his son committed suicide in 1999, and in 2005, Beksinski was murdered, stabbed to death by a young man to whom he had refused a loan of $100.
Despite the artist's claims to the contrary, it's difficult to view these paintings and not experience a chill of horror, or a pervasive sense of loss, abandonment and sadness. I've noticed an increased awareness of Beksinski outside Poland in the last few years – a comprehensive online gallery of his work contains hundreds of images and a lot of information on his methods and inspirations. There's also a readily available book of his better-known paintings.