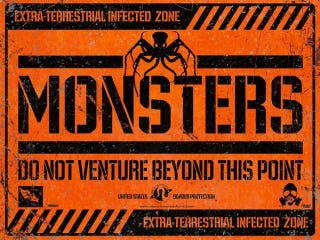 The Mexican monster movie and much buzzed about indie film Monsters is getting a sequel. But the original writer and director Gareth Edwards won't be involved in Monsters 2, because he's currently gearing up for a much bigger beast: Godzilla. And here's what the outspoken director has to say about both creature features.
In an interview with Dread Central Edwards revealed that Vertigo is pretty gung-ho to get started on Monsters 2, but it doesn't sound like the director is that invested in creating the sequel himself.
"Vertigo owns the rights to Monsters, and I know they're keen to move forward with another Monsters-related project very soon. I'm not sure how involved I can be right now, and I don't think my next film really should be a sequel just yet. I'd like to do something else first, but I would definitely be open to returning at some point. But I do think whoever Vertigo ends up hiring will do a great job because they really know what they're doing there. For me, if they hire someone to direct another Monsters movie, the last thing they need is for me to be hanging around, telling people how the movie should be. Whoever comes in should definitely be given free rein to put their own spin on this world, and I know they'll get the right person."
But what about the Godzilla movie? Edwards told the London Evening Standard that he has a no-nonsense approach to the film:
Everyone involved knows what the film has to be, what's important to me is that, as well as spectacle, you have to give a shit about what's happening and why.
So Edwards wants a purpose driven spectacle, we're down with that as well. But will this new monster reboot reference the Godzilla films of yesteryear? The director told Shock Till You Drop that he was a big fan of the classic 60s and 70s Godzilla, so perhaps he will pull influences from the classics. Then again, he also revealed to Shock that he wasn't writing the script, so your guess is as good as ours.