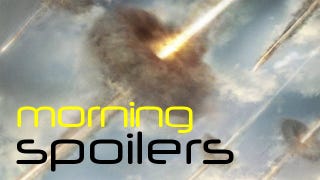 Tom Hardy might not be the only Inception star who is joining The Dark Knight Rises, as Joseph Gordon-Levitt is in talks for a role. We've got confirmation that Anne Hathaway won't just be playing Selina Kyle. Now that Henry Cavill is Superman, the search is on for Lois Lane - and some familiar names are being rumored for the role. An Ender's Game movie takes shape, James Cameron still wants to do Battle Angel, a third Bill & Ted is very much a possibility, and more on the swashbuckling adventures on Doctor Who!
Spoilers ahead!
The Dark Knight Rises
It seems that Inception costar Joseph Gordon-Levitt might just be joining the movie after all. He's rumored to be in talks for a role, although there's no word yet on who it might be. (Although let's all just agree right now that it definitely isn't the Riddler, OK?) Since the movie seems pretty full up with villains at this point, the next obvious guess would be some role on the law enforcement side, although that's purely speculation.
Cinematographer Wally Pfister more or less confirmed that Anne Hathaway is indeed playing Catwoman and not just Selina Kyle. He confirmed that he had "shot Anne's screen test for Catwoman" and later said that "she looks phenomenal in the wardrobe." So yes, we are almost certainly going to see Catwoman, in case there was any lingering doubt. [Bleeding Cool]
We ran part of this yesterday, but here's the full quote on why Christopher Nolan decided to do a third Batman movie:
"I think really it was about finishing the story. For me it's about…knowing where I want to go with the thing and I think with Batman the story we're going to tell is Bruce Wayne's story. So, that's what gets me excited about getting back into something. The sequel thing is rather interesting because there is a lot of comfort in the familiarity of it, but there is also a challenge of reinventing it for yourself as well as the audience. You just can't do the same things again. But once you start thinking about Bruce Wayne's story, you want to see where that goes."
[Hitfix]
Superman Reboot
Now that Henry Cavill is officially Superman, the next big question is who will be playing Lois Lane. (Well, that and who the villain is. But that's likely to come a bit later in the process.) One rumor is that Anne Hathaway was actually locked in for Lois Lane for quite some time, but now she has taken on the Selina Kyle role in The Dark Knight Rises, the search for a new actress is underway.
The current list supposedly includes Twilight's Kristen Stewart, Watchmen's Malin Ackerman (who may have now been aged out of the role, as she's five years older than Cavill), Glee's Dianna Agron, Jessica Biel, and Rachel McAdams. Other sources list The Town's Rebecca Hall, and, in a couple instances of race-blind casting, Parks and Recreation's Rashida Jones and For Colored Girls's Kerry Washington. A couple other names floating around according to somewhat less reliable sources include Scott Pilgrim's Mary Elizabeth Winstead and Kristen Bell. So...it's basically every 18 to 32 year old actress in Hollywood who hasn't quite become a major star yet. As always, take all this with a grain of salt until we hear anything more. [What's Playing and The Week]
It's academic now, but for a look at how Henry Cavill was cast and who he beat out for the role, check out Heat Vision.
Project "mentor" Christopher Nolan offers his own glowing praise for Zack Snyder and Henry Cavill.
"What I'm doing on that is that I hired a great director to take it on and it's more his problem than mine hopefully. [Laughs] I'm going to be very busy, but I'm super excited to watch Zack's movie when its done and I think Henry [Cavill] is going to be amazing."
[Hitfix]
Ender's Game
The adaptation of Orson Scott Card's classic novel by Wolverine's Gavin Hood, plus Alex Kurtzman and Roberto Orci, is making the rounds at various Hollywood studios. Warner Bros., which was supposed to be making this film with Wolfgang Petersen at one point, might want to take it on. But DreamWorks is also said to be interested. [Heat Vision]
Battle Angel
James Cameron confirms that he still wants to direct the adaptation of the Japanese manga about a cyborg who is found and repaired by a scientist. Here's his latest update:
I'm obviously going to be pretty busy for the next five years [with Avatar 2 and 3]. And so I had to consider, do I hand this project off to another director? And then I thought, 'No, I love it too much.'…It's such a rich world. What I'm going to do is take the spine story and use elements from the first four books. So, the Motorball from books three and four, and parts of the story of one and two will all be in the movie.
[Collider]
Bill and Ted 3
Costar Alex Winter offers another update on where the project stands:
You know that's a possibility. Reeves has been pretty vocal about it so there's no point in me lying to people at this point! [laughs] We are working on a script with Chris and Ed, the two writers. And it's really … it's pretty low-fi. We're gonna have a look and see what we all think and see if it's worth pursuing and we're really happy with what they've been coming up with so far. I think it's pretty great and could have a reason for being. And if it does have a reason for being we'll go about trying to make it happen!
The Stand
Stephen King's ridiculously massive post-apocalyptic novel is reportedly getting a movie adaptation, courtesy of Warner Bros. [Heat Vision]
Doctor Who
The filming of the historical pirate adventure is still underway down in Cornwall, and here are some awesome photos to show for it. Photos via WENN.com.
According to some overheard dialogue at the location filming, the monsters of this episode might well be Sirens. [Doctor Who Spoilers]
Plus, in case anyone is worried this episode won't have the requisite amount of swashbuckling, there are some awesome set videos showing Karen Gillan practicing swinging from the ship's riggings, pirates storming the ship...and even the Doctor walking the plank: [Doctor Who Spoilers]
Game of Thrones
13-year-old actress Maisie Williams discusses her character, the young and rebellious Arya Stark:
"My character is a real tomboy and sword fighting is important. They also asked me to learn to ride a horse but I haven't had to do that yet.
And here's a video that also focuses on Williams and Arya: [HBO] Click to view
Outcasts
The BBC's upcoming series about a ragtag group of colonists of an alien world has now set premiere dates. The first episode will go out on Monday, February 7, with the second episode airing the day after. [Den of Geek]
Chuck
Here's a promo for episode 14, "Chuck vs. the Seduction Impossible": [SpoilerTV]
It's been rumored before, but episode 16 does indeed appear to be called "Chuck vs. the Masquerade." [SpoilerTV]
The Cape
Here's a promo for episode 6, "Goggles and Hicks": [SpoilerTV]
Here's a short synopsis for episode 8, "The Lich Part 2":
The Cape, Rollo and Max need Dana's legal connections to help them find The Lich; Orwell struggles to fight the effects of Conrad Chandler's potent serum.
The Event
Here's a lengthy recap video for the show's return, plus another set video with Jason Ritter: [SpoilerTV]
Being Human (US)
Here's the first promo for episode 4, "Wouldn't It Be Nice (If We Were Human)": [SpoilerTV]
V
Here are some more photos for episode 8, "Uneasy Lies the Head." [SpoilerTV]

Executive producer Steve Pearlman confirmed that the show will end this season on a cliffhanger:
As for a cliffhanger, our Season Two Finale definitely wraps up several stories that we've been telling throughout the Season, but we wouldn't be doing our jobs if we didn't leave the audience wanting more. So yes, there are a number of cliffhangers at the end of the Season. Hopefully enough people will be watching by then that a Third Season is a foregone conclusion.
He also teases the rest of the season:
Every episode between now and the end of the Season is like a mini – movie. We go to the Vatican in tonight's episode.. Next week we have a Gala Celebration in NYC. The week after is a hostage crisis, and the week after that Erica and Hobbs travel to Hong Kong and Tokyo to seek answers to questions about what the V's are actually doing here. And in the Season Finale, we reveal the Full Monty – The whole lizard. There's a lot jam-packed into 10 episodes. And we've got a lot more stories to tell. But you gotta keep watching!
There's more at the link. [The V-Files]
Smallville
Here's a bunch of promo photos and synopsis for episode 14, "Masquerade."
Chloe (Allison Mack) and Oliver (Justin Hartley) are mistaken for FBI agents investigating Desaad's (guest star Steve Byers) recent string of murders and the pair are kidnapped by Desaad's minions.

Desaad tries to infect Chloe with the darkness. Meanwhile, Lois (Erica Durance) tells Clark (Tom Welling) he needs to be more careful with his identity and suggests a disguise.
Additional reporting by Katharine Trendacosta and Charlie Jane Anders.