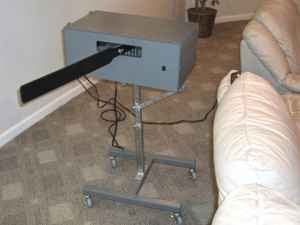 If you happen to live in the Cincinnati area, you could be in for the bargain of a lifetime. Some lucky soul is parting with his or her Robospanker (after finding a slap-happy companion) and is selling it on the World Wide Web. Are you in the market for a wheeled spanking machine?
Original Robospanker for sale. Purchased when I had no one to spank me, but that is no longer the case, so I am putting it up for sale. Less than 1 year old, and only used a half-dozen times. Comes complete with 2 paddles, a remote control (corded) and lockable wheels which I had added to make it easy to move around the house. The Robospanker retails for $645 . . . by adding the casters, my cost was $670. I am asking $500 . . . which includes delivery, set-up, etc. Sincerely inquiries only.
Yes, we live in a day and age in which people can sell their second-hand sexbots online. Here's the ad. Remember, sincere inquiries only.
[Via Warren Ellis]