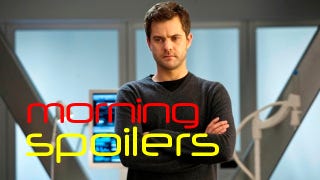 In today's spoiler roundup, Christopher Nolan discusses why he decided to go ahead with The Dark Knight Rises. Plus hints about Captain America and John Carter of Mars, James Bond casting news, and exciting Doctor Who details. Spoilers ahead!
The Dark Knight Rises
Director Christopher Nolan says he ultimately decided to make this movie because "it was about finishing the story" — just more confirmation that yes, this will be the final Nolan Batman movie. He also refused to comment on the fact that Anne Hathaway has only technically been announced as playing Selina Kyle, and not her alter ego Catwoman. Of course, considering this is his final film, there wouldn't seem to be much point in bringing her in, only to avoid showing us Catwoman as well. [ComingSoon.net]

Captain America
Here's the new cover of Empire magazine showing Chris Evans in costume as Captain America — we can likely expect higher quality versions of both of the magazine's Cap photos in the near future. The article includes interviews with the creative team, and in this snippet Marvel Studios executive Kevin Feige explains why this script was perfect for what they wanted to do:
"Scripts had been developed that took place half in World War Two, half in the modern day and none of those scripts were particularly successful because the costume ended up overshadowing the man. So we finally said, 'If we could make a Captain America movie any way we wanted to make it, how would we make it?' Well, we'd set the entire movie in the past, in that period, with all of the Marvel trimmings. And so we made the fun, kick-ass Captain America movie we wanted to."
And director Joe Johnston explains why this film reminds him of Raiders of the Lost Ark:
"I've always loved Raiders and the tone that it had. It was period but didn't feel like it was made in the period. It felt like a modern-day film about the period, which is what we're doing on Captain America. It will not feel like a war movie. It's funny where it needs to be and emotional where it needs to be and serious and full of action."
Finally, Chris Evans explains why Captain America really does have international appeal:
"I think he's the ideal human. Not just American. It's what being a good person is. Steve's managed to overcome all the shortcomings he's had in life and he does what's good and what he believes is right."
Once the magazine is out, we should be seeing more of the interview. [Empire]

Green Lantern
Here's some new promo art showing Ryan Reynolds zooming around. More at the link. [The Daily Blam]

James Bond
Javier Bardem has reportedly been offered the starring role opposite Daniel Craig in the next Bond movie. The role is almost certainly that of the main villain, so here's hoping they abandon any presence of originality and just pit James Bond against No Country for Old Men's Anton Chigurh. In any event, this is just a rumor for now, and nothing is confirmed. [Deadline]
John Carter of Mars
Andrew Stanton explains that they are hard at work on the effects work that will make up the bulk of the movie. He also hinted at what Mars will look like in his film:
"I'm not in post-production - I'm in digital principal photography now, which goes on for the rest of 2011, so I'm only halfway through the movie. I didn't try to make it look like anything else. I really tried to make it its own thing. I tried to make a very historically accurate Martian film if that makes sense, so I'll let you decipher that."
Well, since he asked... I'd guess that the movie's version of Mars is very much in keeping with how scientists and/or writers imagined Mars in the late 19th/early 20th century, contemporaneous with the original John Carter stories. You can check out the full interview at the link. [MTV Movies Blog]
Men in Black 3
It would appear a fairly major part still hasn't been cast:
FEMALE (20s; Caucasian) - OLIVIA. She is the smart, pretty English assistant to Agent Ex, head of the Men In Black (circa 1969). Funny, charismatic and warm, she is usually the smartest person in the room.
Doctor Who
We're reaching critical mass for Doctor Who spoilers, so let's jump right into it. Production is currently underway for Steven Moffat's episode seven, which is the first half of the season-spanning cliffhanger. Simon Fisher-Becker's CV lists his blue-skinned technology dealer - who we first saw with River in The Pandorica Opens - as being called Dorium Maldavar. More intriguingly, he is listed as appearing in an episode called "Demons Run" - and signs on the location filming for that episode display that particular phrase. So it would appear "Demons Run" is the title... now we just have to figure out whether the omitted apostrophe was intentional or not. [Doctor Who Spoilers]
That same sign that reveals the title of episode 7 also features a strange new logo that we haven't seen before. It's thought to be the logo of the Clerics, the church-run army seen in "Time of the Angels"/"Flesh and Stone", as it resembles the patch worn by the soldiers and River Song in those episodes. The logo combines the symbols of the US Air Force, Chrysler...and the Greek letter Omega. Of course, Omega is the name of the legendary Time Lord that menaced the Doctor a couple times in the classic series, and has been widely rumored to return since the beginning of series five. So this might be the first hint of Omega's role in the proceedings...although it's so minor that it might just be included as a little in-joke by the production team, and Omega isn't really coming back. [Life, Doctor Who, & Combom]
As for the monsters in "Demons Run", we can now confirm that at least one Sontaran makes an appearance, as Dan Starkey's CV lists him as a Sontaran in this episode. He previously played Commander Skorr in "The Sontaran Stratagem"/"The Poison Sky", among other new series roles. The Cybermen have also been spotted on set for this episode, although we still don't have any confirmation of the rumors that the original series Mondasian Cybermen will appear. [Doctor Who Spoilers]
Now onto episode three. This spot was originally occupied by Neil Gaiman's episode, but that episode has now been moved to the fourth position, with Mark Gatiss's "What Are Little Boys Made Of?" moving to the second half of the season. This new episode three is written by Sherlock writer Steven Thompson. Casting is coming together very quickly, and there are some exciting names for fans of prestige television, as Downton Abbey star Hugh Bonneville is playing a pirate captain named Avery - who may or may not be the real life pirate John Avery (also known as Henry Every), arguably the most successful pirate of all time. If so, this isn't the first time Avery has figured in Doctor Who — William Hartnell's penultimate story "The Smugglers" is all about the search for Avery's gold. The episode is currently filming down in Cornwall, which is where "The Smugglers" was set. So yeah... this episode might feature the most awesomely obscure in-jokes and past story references in Doctor Who history. I'm excited. [The Doctor Who News Page]
Finally, a few more casting notes. Misfits actor Danny Sapani (he plays probation officer Tony Morecombe) will appear in the new episode 3 as Colonel Manton. Lee Ross, who played Gene Hunt's arch-nemesis Litton on Life on Mars and Ashes to Ashes, is playing the Boatswain, getting us yet another tiny step closer to DCI Hunt himself raging into the TARDIS in some future episode. And, going back to "Demons Run", Annabel Cleare and her young son Henry are both in the episode, playing what the older Cleare describes as "small" roles. [Doctor Who Spoilers and Doctor Who News Page]
Fringe
Here are photos and a quickie synopsis for episode 14, "6B", which I really hope is the most hopelessly obscure Doctor Who reference in American TV history:
The team is led to the home of a grieving widow; Peter and Olivia try to fix their relationship.
Chuck
The show is currently look for tall, muscular types to play Turkish assassins in "Chuck vs. the A-Team." [ChuckTV]
No Ordinary Family
Xena/BSG/Spartacus star Lucy Lawless is reportedly joining the show for a five-episode recurring role. Here's a description of her character:
"Lawless will play a powerful woman and potential adversary for the Powell clan whose agenda could put the family in danger."
[TV Line]
V
Here are photos and a synopsis for episode eight, "Uneasy Lies the Head":
Erica, now officially in charge of the global Fifth Column, leads them in a high risk attack against Anna. Anna meanwhile, growing closer in her plan to destroy humanity, finds a major obstacle in a certain Live Aboard candidate; and Ryan sneaks back onto the Mothership to try and rescue his daughter.
The show's producers are apparently banking on getting a third season — which is not impossible, considering the show's unremarkable but not horrible ratings — as the season finale will reportedly end on a major cliffhanger. The show is borrowing a strategy used a few years back by Jericho, which helped get an unlikely second season renewal by ending with a massive cliffhanger in the first season finale. [EW]
Smallville
This still from episode 14, "Masquerade", shows us getting one tiny step closer to Clark just putting on the damn Superman costume already. [OCSK]
The Nine Lives of Chloe King
ABC Family has picked up ten episodes of this series, which concerns a girl who:
"starts developing heightened abilities and discovers she's being pursued by a mysterious figure. Chloe soon learns she's part of an ancient race which has been hunted by human assassins for millennia - and that she may be their only hope for ultimate survival."
[EW]
Additional reporting by Michael Ann Dobbs and Charlie Jane Anders.