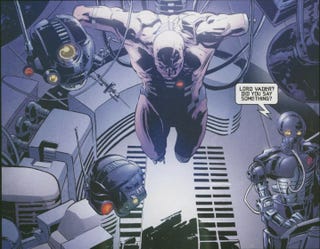 You've seen Lord Vader's transformation from charred stump to cyborg in Revenge of the Sith. But what's the day-to-day maintenance for his life support armor like? Darth Vader And The Lost Command takes us inside the Sith Lord's painful upkeep.
New Dark Horse comic Star Wars: Darth Vader and The Lost Command shows fans what it looks like when Vader goes in for an upgrade. Here are a few panels from the first few pages of the comic. Written by Haden Blackman and illustrated by Rick Leonardi.
Cover by Douglas Wheatley.