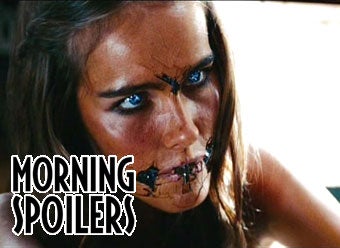 New set photos give us some close-up looks at the rebooted Spider-Man costume. Robin Williams is still rumored to play a Dark Knight Rises villain. Marc Ruffalo might not be Hulking out. Spoilers huzzah!

The Dark Knight Rises
For some unknown reason, Robin Williams keeps getting rumored for roles in the Batman movies. There was the Joker, there was the Riddler... and now it's Dr. Hugo Strange, the same character Tom Hardy was widely rumored for before he was announced as Bane. There is a supposedly reliable inside source who says this is really happening, but...no. Just, no. This is really not happening. [CinemaSpy]
The Avengers
Stuntman Brandon Molale recently tweeted that he auditioned to play the motion capture version of the Hulk. This would seem to contradict Marc Ruffalo's statements that he would be both playing Bruce Banner and providing the physical basis for the Hulk. Of course, there might be a middle ground here - Ruffalo might be handling the motion capture for the less physically demanding sequences, with a stuntman taking over the more strenuous motion capture. Whatever the case, it would seem that it isn't exclusively Ruffalo who is bringing the Hulk to life. [Blastr]
Captain America
Director Joe Johnston explains why he has enjoyed making this movie so much:
I'm having a blast on Captain America but it has less to do with the genre than with the story itself. The story of Steve Rogers is the only "super hero" movie I ever really wanted to do, because of who he is... basically Everyman. The creative team on Captain America also wanted to prove that a period action movie can still work just as well as a modern day or futuristic one. I forget I'm watching a period film when I watch Raiders of the Lost Ark, and I think the same will be true of this picture. To Marvel's credit, they have never said no to any of the action sequences, and several of them are pretty spectacular... and most importantly, they service a solid story.
Spider-Man Reboot
These are a ton more set photos, giving us our best look yet at the new Spider-Man costume. Click any of the thumbnails above to see the full gallery. [On Location News]

And here's a video from the set: [Comic Book Movie]
X-Men: First Class
Above are a couple new set images, including our first look at Oliver Platt as the Man in Black. [ComicBookMovie]

Kick-Ass 2
Mark Millar offered another update on the sequel, which you can consider the completely definitive word until his next update:
"We've said from the beginning, of course, we'll certainly do a sequel. It's just, when everybody has time. I'm writing the story just now, Matt[hew Vaughn, director of the orginal Kick-Ass film] is finishing X-Men probably in April, he's out in LA at the moment. We talk about different stuff every day, but almost certainly. We just have to make sure the actors don't get too old. Chloë [Moretz] in particular. We can't wait until she's 15. We don't want Hit-Girl with kids."
He also offered these updates on two of his other comic book adaptations, Nemesis and Superior:
"The Nemesis movie is the next thing we're all starting to get quite excited about. Hopefully in the next few weeks that's out with a screenwriter, and hopefully when the screenplay is done in a few weeks time, we can really get moving on that. Superior should be fast-tracked as well. Hopefully have both of those out at around the same time. But what's nice is that I can just sit back and let other people do all the hard work with that, and just go see the movie and get a free ticket."
The Hobbit
Although nothing has been confirmed, the current rumors hold that Atonement actress Saoirse Ronan (who also worked with director Peter Jackson on The Lovely Bones) is playing the Silvan elf Itaril. [Scifi Mafia]
Abraham Lincoln: Vampire Hunter
Benjamin Walker, best known for his work in the play Bloody Bloody Andrew Jackson, has reportedly been cast as another unusual take on a legendary president, as he's reportedly playing the vampire-hunting Lincoln. [Variety]
Fringe
Fox has released this promo for episode 12, "Concentrate and Ask Again": [Comic Book Movie]
The Cape
Here's a bunch of promo photos for the upcoming episode "Dice." [ComicBookMovie]

And here's a description for "The Lich, Part 1":
"Orphaned since birth, Conrad Chandler (guest starring Glenn Fitzgerald), the heir of one of Palm City's founders, exacts revenge on the public and threatens to paralyze and control the city. The Cape (David Lyons) and Max (Keith David) alert Marty (Dorian Missick) of the impending danger to the city, which backfires on The Cape.

"Meanwhile, the Secretary of Prisons, Patrick Portman (guest star Richard Schiff), aids Orwell (Summer Glau) in her search for the lone heir. Orwell locates Conrad through Netta (guest star Illeana Douglas), his mysterious caretaker, but soon discovers his deeply disturbing past and finds herself in danger. Elsewhere, Dana (Jennifer Ferrin) becomes increasingly uncomfortable with her new social life."
Eureka
Executive producer Jaime Paglia has revealed Felicia Day makes her debut in episode 12, the second episode of the second half of the season. [#JaimePaglia]
Amy Berg says she and Paglia are working on an unusually layered episode - one that she calls the "Russian nesting doll of Eureka episodes." Whatever it is, Felicia Day likes it. [Bergopolis on Twitter]
Star Wars: The Clone Wars
After Liam Neeson, another Phantom Menace thespian is lending a voice to the series. Shmi Skywalker portrayer Pernilla August will reprise her role as part of a story arc that examines what it really means for Anakin to be "the chosen one." It's unclear whether she will just be appearing as a vision (probably most likely) or in a flashback to when she was still around. [Sky Movies]
V
Here's a promo for the upcoming episode "Unholy Alliance": [Comic Book Movie]
Smallville
Laura Vandervoort will reportedly reprise her role as Supergirl in one of the show's last five episodes. [TV Line]
Callum Blue is also reportedly returning as General Zod, again in one of the final five episodes. [TV Guide]
Lois Lane portrayer Erica Durance says she has no idea what's in the finale, but here's what she'd like to see happen:
I've thought about this a lot, but they surprise me, all the time. I would love to see Lois fly. Not her, herself, but with Clark. This is my wish list. This is not what the producers have told me. I would love to see her get married to Clark. I'd love to see her really find herself and find her grounding and go, "Okay, this is who I am," and settle down.
There's more at the link. [Collider]
Additional reporting by Chelsea Lo Pinto and Charlie Jane Anders.