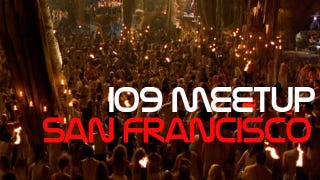 Get ready for another io9 meetup in San Francisco - this time in our favorite bookstore cafe, Borderlands. We'll meet tonight, February 4, from 7-9 PM.
Borderlands is a great science fiction bookstore, featuring an incredible selection of new and used books. And they've got a lovely, spacious cafe next door. We'll be meeting in the cafe, but proprietor Alan Beatts promises that they'll keep the bookstore open until 9 PM so you can run over and buy some books if you feel the urge (which you probably will).
Borderlands, at 866 Valencia, is conveniently located near the 16th and Mission St. BART. There is also parking available in a few local garages, as well as street parking (hard to find in the Mission though). Here are garages we suggest:
21st St. (between Valencia and Mission) MEDA/City Garage. Pay an attendant.
16th St. at Hoff (between Mission and Valencia) City Garage. Metered parking.
Mission St. (between 19th and 20th) El Capitan/Greek Imports behind Bruno's. Enter on Mission St. Private lot.
See you there!