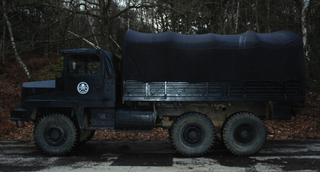 For those readers aspiring to be nefarious peons in a supervillain organization, this vintage Berliet military truck emblazoned with the HYDRA insignia from Captain America: The First Avenger should suffice nicely. Several HYDRA trucks are being auctioned off in March.
Here's what Captain America executive producer Nigel Gostelow had to say about the auction to The Telegraph:
I, along with our director, Joe Johnston, are both avid 'petrolheads', and so historical accuracy was vitally important to us [...] When it comes to movie production, the settings need to look and feel real, and these cars played a large part in that process. Ultimately they looked great on set, and pleasingly, were correct and very well prepared.
Over fifty vintage automobiles from 1938-1941 will be auctioned off by Historics at Brooking — you can see the full list here. The HYDRA truck should go for £3,000-£5,000, but be forewarned that it'll be fairly useless should you run into those SHIELD agents and their chichi hovercars.
[Spotted on CBM]