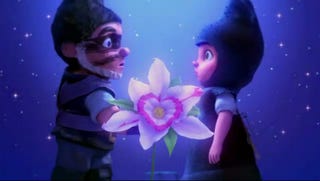 2010 was a great year for CG animated movies from the "other" studios: How To Train Your Dragon and MegaMind both rocked. But can Gnomeo & Juliet finally equal Pixar with its strange/cute retelling of Romeo and Juliet?
Above is a brand new behind the scenes video, featuring the insane cast brought on to voice Gnomeo & Juliet, including Emily Blunt, James McAvoy, Ozzy Osbourne, and Hulk Hogan. It's sugary and sentimental, but in all the right ways. While we always love Pixar, it's exciting to see new animated films (even if it's being put out by Disney's Touchstone). Hopefully this can live up to the stellar year of non-Pixar releases from 2010.
Here's the official trailer:
Gnomeo & Juliet opens in US theaters on February 11th, 2011.
Update: Earlier I accidentally labeled G&J as a Dreamworks production, that was clearly wrong. Apologies. This film was made by the Canadian animation studio, Starz Animation and will be distributed by Disney's Touchstone.