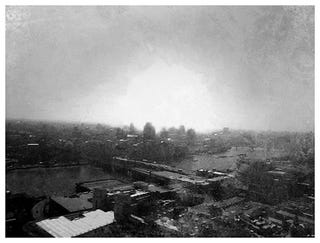 Peter Crowther's PS Publishing has put out some of the UK's most cutting-edge books of late, and now he's publishing his own trilogy with Angry Robot Books. In Darkness Falling, a blinding light covers the Earth... then the nightmare begins.
Here's how Angry Robot describes the trilogy in a press release:
The Forever Twilight trilogy sees a blinding light engulf the planet. As the light fades to utter darkness, only a handful of survivors remain. That is, until the hordes of vanished humanity begin to return – each one of them changed somehow.
And Angry Robot Publishing Director Marc Gascoigne is quoted as saying:
Reading Darkness Falling gave me the same thrills I've got from recent Stephen King novels and Justin Cronin's The Passage, and that was it – I decided we just had to have this dystopian masterpiece for Angry Robot
The first book comes out in October, with the other two arriving in 2012 and spring 2013.
Top image: The Aquarium L-13 exhibit.