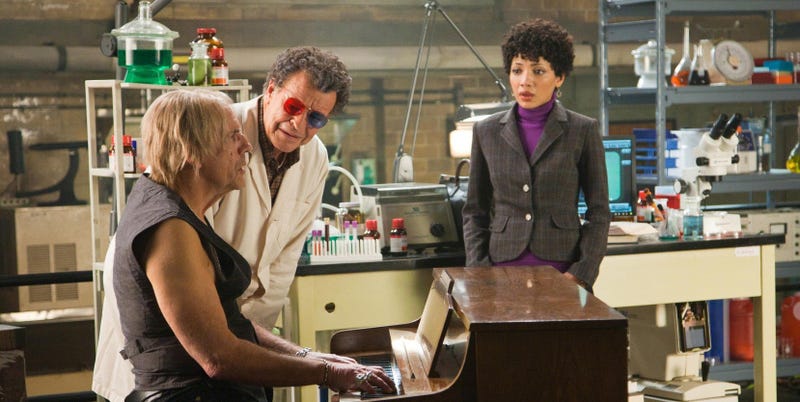 Fringe is back, and Walter is rocking out with Back To The Future's Christopher Lloyd! Plus Syfy's reimagined Being Human takes a bite out of Monday night. Plus new Chuck, V, No Ordinary Family and The Cape. Television loves you!
Today:
Animal Planet is having a marathon of River Monsters all evening.
Chuck is back! The superspy from the clone of Best Buy returns to NBC at 8 PM, as Chuck is forced to track down a missing nanochip.

Also at 8 PM: Cartoon Network has its usual bloc of weird cartoons, including Adventure Time with Finn and Jake, Regular Show and Robotomy.
And then at 9 PM, Syfy unveils its Americanized version of the hit British series Being Human, about a vampire, a werewolf and a ghost sharing an apartment. The casting of genre MVP Sam Witwer is a good sign, but can this show really live up to the British original? Find out for yourself!

Also at 9 PM, NBC has a new episode of The Cape, the show that probably has as-yet-undiscovered depths. This week: We discover the true identity of Orwell, the crime-fighting blogger played by Summer Glau.

Late night movie pick: Just for the title alone, we have to recommend the movie Housewives from Another World on Cinemax just after midnight. (What sort of houses? What sort of family structure? The mind boggles.)
Tuesday:
Syfy is having a Joan of Arcadia marathon all day.
At 8 PM, there's a new No Ordinary Family on ABC. The police station is taken hostage, so who can the police call? More importantly, can Jim save the day without revealing his superpowers to everyone?

Also, it's worth mentioning I, Predator on Animal Planet, uses technology to give you an up-close-and-personal look at the predator-vs-prey struggle, from the predator's point of view, combined with archival footage. This week, you see the world from the vantage point of a polar bear hunting the ringed seal, which stays underwater almost its entire life to avoid getting eaten. That's at 8 PM.
Also, PBS is having a new special, Pioneers of Television, at 8 PM, followed at 9 by a rerun of The Space Age: NASA's Story.
And then at 9 PM there's another new episode of V, in which Anna orders Ryan to track down her sleeper agent, Malik. And meanwhile, the Fifth Column discovers more bewildering secrets of Anna's schemes within schemes within pastry shells. Once again, ABC has released enough sneak peeks to give away almost the whole episode:

Wednesday:
Today's Syfy marathon: The Invaders.
From 7 PM to 9 PM, there's are two hours of Mythbusters: Super-Sized Special on Discovery.
At 9 PM, there's a new Nova on PBS, focusing on "Making Stuff Stronger." This is the first of four segments focusing on "Making Stuff," as the Nova site explains:
Invisibility cloaks. Spider silk that is stronger than steel. Plastics made of sugar that dissolve in landfills. Self-healing military vehicles. Smart pills and micro-robots that zap diseases. Clothes that monitor your mood. What will the future bring, and what will it be made of? In NOVA's four-hour series, "Making Stuff," popular New York Times technology reporter David Pogue takes viewers on a fun-filled tour of the material world we live in, and the one that may lie ahead. Get a behind-the-scenes look at scientific innovations ushering in a new generation of materials that are stronger, smaller, cleaner, and smarter than anything we've ever seen.
Thursday:
Another Syfy marathon today, this time covering the vampire detective show Moonlight.
The Big Bang Theory has a new episode, "The Love Car Displacement," at 8 PM on CBS — the gang stays at a hotel for a science convention, and Bernadette runs into her giant ex-boyfriend, played by former NBA star Rick Fox. This causes Wolowitz to experience some insecurity.

Meanwhile at 8 PM, National Geographic has another episode of Naked Science, focusing on "Star Clock BC":
In 1900, a group of Greek sponge divers happened upon a two thousand year old ship wreck at the bottom of the Aegean Sea that would re-write history. Hidden among a rich cache of bronze and marble statues, glassware and amphorae was a mechanism the size of a shoe box. Inside the mechanism were mathematical gears and pointers. The Ancient Greeks were known to be philosophers, poets, and mathematicians but there was nothing in the archeological record to suggest that they were also technicians capable of creating something so complex. For 100 years researchers have been trying to understand what the mechanism does. Lone Wolf Documentary Group follows two professional model makers - Chris Weisbart and Maris Ensing - as they try to understand the ancient mechanism by building one themselves. Interviews with experts around the world help shed light on the mystery of this phenomenal artifact.
Also at 8 PM, the frequently science fiction-studded Community on NBC.
Friday:
One last Syfy marathon this week: Level 9 episodes are showing all day.
At 7 PM, the Cartoon Network has a new — actually new! — episode of Young Justice, "Welcome to Happy Harbor." In which:
Young Justice battles a villain named Mister Twister, who they believe is really Red Tornado testing them.
Then at 8:30 PM, there's a new Star Wars: The Clone Wars, "Witches of the Mist."

Fringe returns to Fox at 9 PM — and now's the time to indoctrinate all your friends into Fringe fandom. Fox execs have been stressing that they want to keep this show on the air, and they're hoping it will do well on Friday nights. Rather than writing the show's obituary prematurely, we should be celebrating it and evangelizing for it. This week's episode, "Firefly," features a guest spot by "Doc" Brown himself, Christopher Lloyd, playing a rock star whose music has a special meaning for Walter. Also, the Observers finally rear their heads again.

And at 10 PM, Syfy has a new Merlin, "Goblin's Gold."

Saturday:
At 7:30 AM, TCM has a 1956 movie with the intriguing title of Dig That Uranium. In which "The Bowery Boys battle crooks for control of a uranium mine out West." Can you dig it?
Oxygen is having a Buffy the Vampire Slayer marathon all day, starting at 10 AM and going until 8 PM.
Also, Discovery is having a Mythbusters marathon all day, starting at noon and going until midnight.
At 9 PM, BBC America has a new (to Americans) episode of Primeval:
Saturday detention is thrown into disarray when a deadly Therocephalian attacks a teacher, allowing the kids to run riot. The team are soon faced with not only tracking down the creatures, but fighting against the antics of a group of terrified students. Finding a Therocephalian nest in the school canteen, Connor enlists the help of the kids to stun the creatures into submission before returning them through the anomaly. Meanwhile back at the ARC the menagerie, including Rex, are under threat of termination at the order of Philip Burton.
Sunday:
At 10 AM, Disney XD has another episode of Avengers: Earth's Mightiest Heroes with the exciting title of "The Kang Dynasty." I can't wait to see what Kang Dynasty pottery looks like.
Once again, Fox's animation bloc begins at 7:30 PM with a new American Dad, followed by new episodes of The Simpsons, Bob's Burgers, Family Guy and Cleveland Show.
And at 8 PM, Discovery has a one-hour special presentation, Apocalypse How:
From the dawn of civilization, mankind has been preoccupied with its own demise. All of the world's major religions have their own theories about how and when the world will end. Apocalypse How asks : If the apocalypse is coming, what form will it take?
Then at 11:45 PM on Adult Swim, there's a new Robot Chicken, "Big Trouble in Little Clerks 2." And that's followed at midnight by the premiere of a new show, Mongo Wrestling Alliance.
Sources: SF Chronicle TV listings, Futon Critic.