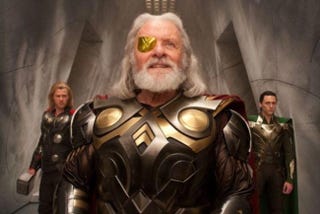 While discussing his upcoming exorcism thriller The Rite, legendary actor Anthony Hopkins told us a little about the world of Thor, and the great weight that is placed upon you when you play the god Odin... both literally and metaphorically.
Hopkins was mainly there to talk about The Rite (which we'll have more to say about in a little bit), but he did share a few thoughts on the world of Thor and what influences he brought to the project. He confirmed the Shakespearean undertones of the film, which is hardly surprising considering his previous work (including Julie Taymor's Titus) and director Kenneth Branagh's background with epic adaptations of Henry V and Hamlet. Hopkins put it simply:
Well, it's about gods. So you have to do a little bit of Shakespeare to play a God.
In a not exactly surprising revelation, Hopkins said he hasn't read any of the comics, but he explained that the Asgard sets Branagh created for him told him everything he needed to know about the world of the film:
I saw the sets, I saw the designs, and what I was going to wear. I went to the studio down in Manhattan Beach and saw what they were going to put on me and all that. So when they dressed me up, I thought, "Well, I'm a god now." It was a bit difficult to move around because they had steep steps, that was quite tiring as it's about twenty or thirty pounds that you're carrying around with you all day, and you can't really take much of a rest. So you just come on set, and it's a huge set, and you're in armor and the camera is pointing...and you're a god.
Thor opens in the US on May 6, 2011. You can check out the trailer here.