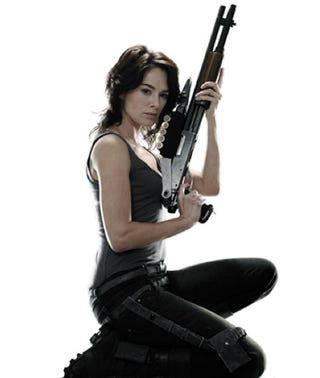 Sarah Connor is finally going to see the future — sort of. Rumor has it Lena Headey, the fantastic Sarah Connor from The Sarah Connor Chronicles will be the big bad in the brand new Judge Dredd movie, Dredd.
According to Judge Dredd Movie News site, Headey has been cast as the main villain — a "gang-leader, Madeline Madrigal AKA Ma-Ma." And reportedly, she already began work on the film last week. We're absolutely ready to watch Headey kick some ass. Hopefully her gang will have very cool futuristic street-urchin threads.
Karl Urban is starring as Dredd (here's a previous pic of his new helmet) along with Olivia Thirlby. The movie (which is being billed as a grittier version than the Sly Stallone flick, and more faithful to the comics) is being directed by Pete Travis.