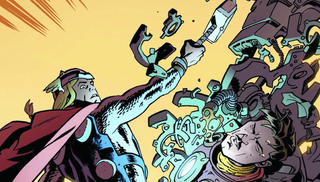 One of our favorite series of 2010 gets the axe this week. Boo! But to ease our pain, there's a ton of new comics, some 2000 AD trades, and a fun-looking series about parallel universe body-swapping.
Let's start with some bad news first, the eighth (and last) issue of Thor: The Mighty Avenger (Marvel) hits the stands. During this title's run, Roger Landridge and Chris Samnee put together some enjoyably retro-tinged Asgardian stories. Hopefully Marvel will give it a second chance sometime soon.
What debuts hit the stands Wednesday? Mike Mignola and John Arcudi kick off a new paranormal story arc in BPRD Hell On Earth: Gods (Dark Horse), Alex Irvine pens the Dungeons and Dragons comic Dark Sun (IDW), and Peter David begins the next chapter of Fallen Angel in Fallen Angel: Return Of The Son (IDW).
A high concept series that sounds promising is Nick Spencer's (Morning Glories) Infinite Vacation (Image), in which it's commonplace for people to swap in and out of the lives of alternate reality versions of themselves. Andy Diggle also brings back a humbled Daredevil post-Shadowland in Daredevil Reborn (Marvel).
As for other titles, the second volume of Matt Fraction and Fabio Moon's Casanova (Marvel/Icon) gets a reprint, a new issue of Mike Carey's Unwritten (DC/Vertigo) is out, and we meet Knight's American butler Hank (a reverse Alfred) in Paul Cornell's Knight and Squire (DC)
As for graphic novels, the long-running post-apocalyptic series Deadworld (IDW) gets a Volume 1 omnibus, and the first collected edition of the webcomic Dork Tower (Dork Storm Press) is released. A duo of 2000 AD books are out: Garth Ennis and John Wagner's surfing fable Chopper and Ian Edgington's sea monster story Leviathan. The first volume of the weird Western Sixth Gun (Oni) is out — check out a preview of the first issue here. Finally, the new Vertigo Crime graphic novel Chill is about an undying supernatural seductress who drains the sexual energies of her victims.
As usual, here's the list of everything being released to comic stores tomorrow, and you can find your nearest comic retailer here. Happy reading, gang!