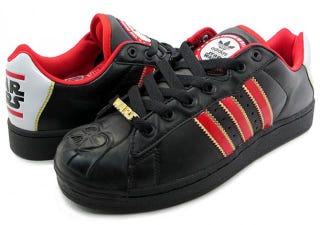 Adidas has a new Star Wars shoe out in its "Originals" line, and this one will remind you that your toes' lack of faith is disturbing.
The Freshness blog explains the subtle hip hop reference on these shoes, called the Ultrastar:
With the exception of the toe guard in the form of Darth Vader, the Ultrastar does represent hip hop's golden era in a subtle way. Turn to the heel tab of the show and there is your subtle reference – Star Wars lettings mounted in the form of Run DMC logo, a clever addition without deviation on the originals theme.
Yes, these lovely hip hop Dark Lord crossover shoes are in stores now.
See more pictures at Freshness