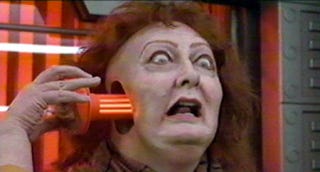 Details are leaking out on Len Wiseman's Total Recall reboot. And instead of trying to recapture the glorious weirdness of the Verhoeven original, it's sounding more like a tribute to the other classic Philip K. Dick adaptation, Blade Runner.
In an interview Collider, movie producer Neal Moritz confirmed that Colin Farrell would have Arnold Schwarzenegger's old role in the new movie reboot, and that filming would begin on May 15th. The producer also went on to describe exactly what the future would look like:
I think the world that Len Wiseman is creating is incredible. It's a real world, a real future world, where the cities have just gotten so overcrowded that the cities are just built up, up, up, up. It's just everything I see on the movie, every pre-vis I see on the movie, every conceptual drawing on this movie that I see just makes me more and more excited. We're playing it like a real world, but there's all these technological advancements to the real world, and it's just really, it's cool. It's an awesome movie. I'm dying-as a fan of movies, more than anything, it's a movie that I'm just dying to see.
Sounds very Blade Runner-esque. But let's hope Total Recall creates something slightly different than what The 5th Element and other Blade Runner-influenced world builders have managed to create. More movie details over at Collider.