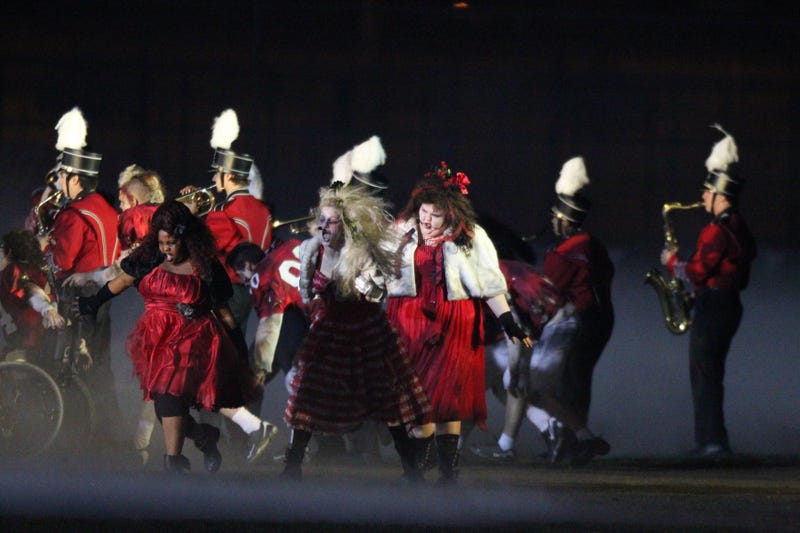 What's Glee's next pop victim? Michael Jackson's zombie dancing horde from Thriller. Let's be honest, "The Rocky Horror Glee Show" was a bit of a bust, so Glee, you've really got to bang this one out. Here's a first look.
We'll be honest, the football uniforms give us hope. One of the problems with "Glee's Rocky Horror" was that it never really felt like something the Gleeks made — and what they changed wasn't utilized to the full potential. The songs were "fine" but the show itself was merely an excuse to run a Halloween themed episode during the spooky Fall season. If Glee is going to start consistently dipping into the classic genre music pool, let's hope they start getting a bit more creative. Hell, So You Think You Can Dance was able to get an original zombie dance number up and running no problem (and to be honest it's one of my favorite little dance numbers from that whole series):
The football zombie mash-up is new enough, so we're waiting to pass judgment for now. Until then we have all of our fingers and toes crossed for some excellent undead Glee cheerleader rump shaking.
UPDATE: The football uniforms are supposedly for Glee's big Superbowl episode. The episode will NOT be Jackson-centric, their "Thriller" interpretation WILL be a mash-up and the episode will feature other songs from The Black Eyed Peas and Katy Perry. So, yeah, all signs point to disaster.
For more images check out Spoiler TV.