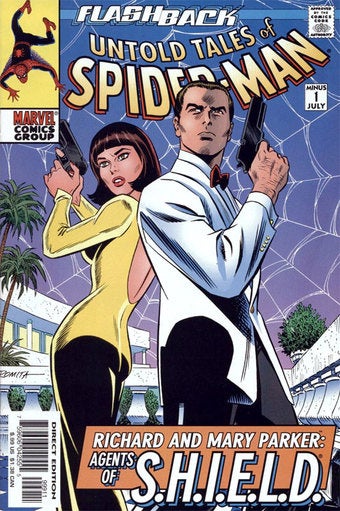 A trio of obscure characters have joined Marc Webb's upcoming Spider-Man film. Peter Parker's rarely-seen parents, Mary and Richard, and a Z-List bad guy, Van Atter, will be joining the cast. But who's Van Atter's supervillain alter ego? Spoilers ahead...
First off, Richard and May Parker will be portrayed by Campbell Scott and Julianne Nicholson. In the comics, the Parkers are pair of globe-trotting C.I.A. agents who perish at the hands of Albert Malik, "the Communist Red Skull" (yes, there was a Red Red Skull — it's a long story). The Parkers haven't had a giant role in Spider-Man lore, but their Life Model Decoy clones once came back to give Peter severe emotional stress. ("Hi son, we're alive! Ha ha, just kidding! We're androids! LOL101010!")
It seems likely that Van Atter is a reference to Nels Van Adder, a character who appeared in only one Spider-Man comic, 1997's Peter Parker, Spider-Man 1. In this comic, Norman Osborn transforms Van Adder, his lab assistant, into the "Proto-Goblin," a cinnamon red precursor to the Green Goblin.
Mind you, this character is so off-the-radar that "Proto-Goblin" isn't even his proper name — it was just his moniker that appeared on the comic's cover. Van Atter will be played by Irrfan Khan of Slumdog Millionaire, and Annie Parisse (Rubicon) will play his wife.
[THR]