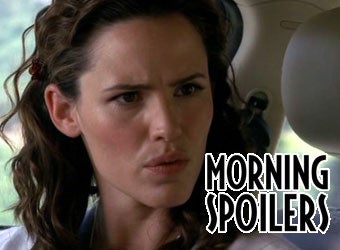 Roberto Orci and Alex Kurtzman explain why Star Trek 2 is tougher to write than the first prequel. An absolutely ridiculous Dark Knight Rises rumor has resurfaced. A classic Doctor wants in on a massive Doctor Who anniversary special. Spoilers!

Star Trek 2
Writers Roberto Orci and Alex Kurtzman confirmed they've "broken" the story, suggesting they're making good headway on the screenplay for the sequel. Kurtzman said they're getting a lot more outside input on this one than they did on the first movie, and Roberto Orci explained a particular challenge that makes this different from the last one:
One of the big challenges is all of the characters are together now. A prequel is a pain in the butt, but one of the nice little advantages was that you get to meet the characters as you go through the story and they get to meet each other. That's fun. We don't that luxury of not having the entire family there together at the start of the story. So now you want the character stories to be good for everybody but also not just be there to be stories but also fit into the plot and be organic. We're looking at a lot of the old episodes for inspiration, still. Whereas the last movie was all about breaking free from "Star Trek" and its canon, now that we can do whatever we want, we still want it to feel like good ol' "Star Trek" even though it's a new story.
When asked if they see this movie as the second act of a larger trilogy, a la Empire Strikes Back, they were unsurprisingly vague, although Orci suggested that they see this movie more as a self-contained adventure...but others might have different ideas. [LA Times]
X-Men: First Class
The always welcome Ray Wise (Twin Peaks, Reaper) says he has joined the movie's cast. He explains he's playing the Secretary of State in the 1960s-set movie, and that he does have some interaction with the movie's special effects elements. [IGN]
Ghostbusters 3
In a radio interview, Dan Aykroyd confirmed the recent casting rumors regarding Anna Faris and Bill Hader - but not Will Forte - saying the pair had been mentioned as "strong possibilities." He also mentioned Eliza Dushku as another candidate. All of this is very tentative, of course, and Aykroyd has shown a tendency to give the most bullish possible spin on any Ghostbusters-related news, but it sounds as though these three are at least tentative contenders for a role. [Bloody Disgusting]
The Dark Knight Rises
The rumor has resurfaced that Christopher Nolan is going to use a mix of unused footage and CGI to insert a Heath Ledger cameo into the movie. A supposed insider on the production is claiming this, saying it's a way to link the two films and pay tribute to Ledger's work as the Joker. Yeah...this isn't happening. I'd tell you to take this with a grain of salt, but your grains of salt are too valuable to waste on this rumor. [Showbiz Spy via NerdBastards]
Contagion
Here's the first image of Matt Damon in Glencoe, Illinois filming Steven Soderbergh's sci-fi plague thriller. [On Location Vacations]

The Hobbit
Back when Guillermo del Toro was still directing, Ron Pearlman was heavily rumored for a role in the film. He's now confirmed that he will not be appearing in the movie. [ComingSoon.net]
Fringe
Another sneak peek at the next episode, "Entrada": Click to view

And one more promo for good measure: [Fringe Television]
Walking Dead
Here's some promo photos for the finale, "TS-19": [KSiteTV]

True Blood
Episode 2, which we previously mentioned is called "You Smell Like Dinner", is set at Fangtasia. A bakery/pie shop set is being built for the new season, as well as a "weird looking metal shack." Finally, Sam Trammell will be going a bit grayer this season. I assume they mean that in terms of his hair, not morally speaking, but you never know. [E! Online]
Doctor Who
Sylvester McCoy says he would love to return to the show for a fiftieth anniversary special in 2013. McCoy, who still looks quite a bit like he did when he played the 7th Doctor, also says he thinks they could include all eleven Doctors with the magic of CGI:
"I know that the producers balk at it. All those egos in the same room would be very difficult to deal with. But the fans are hoping that for the 50th anniversary, which is coming up, they might do something like that. It would be fascinating with all the technology if they could bring back Jon Pertwee and William Hartnell. That would be amazing - and I bet they could do it if they wanted to."
Note that he didn't include the other Doctor who is no longer with us. I assume this is because everyone already knows zombie Patrick Troughton will be specially rising from the grave to play the 2nd Doctor once more - even death itself can't keep him from reprising the role. [Doctor Who Online]
Torchwood: The New World
Longtime Joss Whedon producer Kelly Manners is joining the new Torchwood series as a producer, bringing the Whedonverse and Whoniverse one step closer to total collision. A bunch of other crew members have been announced, including a Life on Mars director, a bunch of other Buffy/Angel/Dollhouse people, and quite a few coming over from The Walking Dead. Here's the list:
— Bharat Nalluri - Director - Life On Mars; Outcasts
— Nathaniel Goodman - Lead DP - Heroes; Kiss Kiss Bang Bang
— Gregory Melton - Production Designer - The Mist; The Walking Dead
— Skip Schoolik - Post-production Producer - The Walking Dead; Angel
— Shawna Trpcic - Costume Designer - The Cabin In the Woods; Angel; Dollhouse
— Todd McIntosh -Make Up - Buffy; Memoirs of a Geisha
— Hunter M Via - Film Editor - The Walking Dead; The Mist; The Shield
Eureka
Here's a lengthy synopsis and a bunch of promo photos for their upcoming holiday special, "O Little Town...":
Carter's (Colin Ferguson) plans to visit family for the holidays are thwarted when he, Zoe (Jordan Hinson) and the rest of the town are trapped in Eureka by a glitchy electromagnetic shield – during a very un-Christmassy heat wave. Undaunted, Allison (Salli Richardson-Whitfield) mega-decorates and Vincent (Christopher Gauthier) serves up fruitcake while a mysterious Secret Santa distributes stunningly perfect gifts. Fargo (Neil Grayston) obsesses over plans for the Global Dynamics company party, getting only a "Bah humbug" from Jo (Erica Cerra). She has her hands full with the partying GD staff, including Dr. Noah Drummer (Chris Parnell) who nearly absconds with a volatile experiment.

Even a runaway sleigh careening down Main Street fails to ignite Carter's holiday spirit, especially since the low flying Santa turns out to be the eccentric Taggart (Matt Frewer), immersed in the study of "Santalogy" - science that he insists will prove the existence of the elusive Claus.

The halls get seriously decked when Dr. Drummer's experiment, an unstable hydrogen crystal, starts to grow at a frightening rate. Carter and Henry (Joe Morton) attempt to deal with the potentially explosive crystal, but before long the true scope of the problem is revealed, and it will take more than tinsel and carolers to save Christmas — and Eureka.
Warehouse 13
And here's a bunch of photos for their holiday special "Secret Santa", which guest stars Judd Hirsch as Artie's dad. Note this episode is set before the second season finale, so they'll deal with all the fallout of that next season. [Daemon's TV]

V
Here's a bunch of new promo photos of the cast: [KSiteTV & SpoilerTV]

Smallville
Executive producers Kelly Souders and Brian Peterson dropped a couple hints as to what lies ahead:
KS: "We'll see some familiar faces again, and as we've always said, Clark has to get closer and closer to being Superman. We'll be seeing little hints about that throughout the rest of the season."
BP: "There's also a wink to a Clark-Lois moment in episode 12 (airing early 2011) that the fans have been screaming for!"
[E! Online; more hints from writer Al Septien here]
Here's a quick promo for the next episode, "Luthor": [SpoilerTV]
The Cape
NBC has released another trailer: [CapeSite.net] Click to view

Episode 7 is reportedly called "Ghosts of Palm City." [SpoilerTV]
Sanctuary
Here's a synopsis and promo for the next episode, "For King and Country":
In the next all-new episode of Sanctuary, Tesla is actually humbled by unknown technology. Henry tries to calm him down, as Tesla expresses he's never seen such technology, or even imagined it for that matter. Henry of course just wants to explore as quick as possible. Tesla gives him the go ahead to search through new found organic matter. They both brace themselves while anticipating the worst.
Being Human
Here's another promo and a bunch of photos for the US remake: [SpoilerTV] Click to view



Additional reporting by Katharine Trendacosta and Charlie Jane Anders.