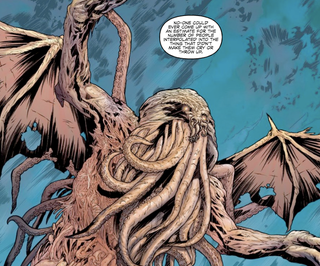 Comics were kicked back a day because of Thanksgiving, but there's still plenty of new books worth waiting 24 hours for. Check out new Buffy, Supergod, Achewood, and tons more.
First off, the final issue of Warren Ellis' Supergod (Avatar) finally hits the stands — this issue follows the final standoff between the world-ending metahumans of each nation, including a giant Chinese Cthulhu made out of human bodies (above). You can read a preview here. For more bizarre science, the latest issue of Jeff Smith's Rasl is out as well.
For vampire fans, there's the penultimate issue of Season 8 of Buffy the Vampire Slayer (Dark Horse), the conclusion of the 'Devil in the Sand' story arc in American Vampire (DC/Vertigo), and a new Vampirella (Dynamite) trade out, which features early work from Warren Ellis and Amanda Conner (so it's cheescake with pedigree). Another piece of fanged fiction comes from Madhouse Studios' Torajiro Kishi — in his original scifi graphic novel Devil (Dark Horse), a vampire plague has run rampant across Japan. For some holiday-themed reading, a sawbuck will get you the 216-page Tick: Christmas Cavalcade (New England Comics), and there's Vertigo Resurrected: Winter's Edge (above), which features short stories from Brian K. Vaughan, Paul Pope, and Neil Gaiman.
Marvel's Shadowland wraps up this week, and Wolverine kicks off a new miniseries — Wolverine: The Best There — illustrated by Juan Jose Ryp. 2000 AD has two new trades on the stands: John Wagner's The Complete Al's Baby (which is about a pregnant mob boss) and Alan Hebden's time-displaced soldier tale Meltdown Man. The latest Fables trade's released tomorrow ("Witches"), as is the final Planetary book ("Spacetime Archaeology"), and a collected edition of Skydoll: Spaceship. Finally, for webcomics fans, there's the third volume of Achewood (Dark Horse), and for manga fans there's Osamu Tezuka's Ayako.
As usual, here's the list of everything being released to comic stores tomorrow, and you can find your nearest comic retailer here. Happy reading, gang!