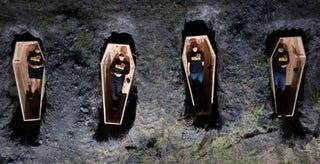 Fantastic Fest in Austin has become the premiere US film festival for genre films. For opening night, they buried people alive. Now they're unleashing dozens of new films, from thrillers to scifi. What are you missing at Fantastic Fest?
From September 23rd through September 30th, genre movie fans gather at the Alamo Drafthouse and the Paramount Theater in Austin, Texas to watch some truly messed up movies. And this year, some watched one movie in a messed up way. Four people were randomly picked to watch Buried, a film about a man (Ryan Reynolds) who wakes up in a coffin with a lighter and cell phone, on the screens on the top of their own buried coffins. Presumably, afterwards, they were dug up again, but it's tough to organize festivals like these.
Now Fantastic Fest is going from coffin size to nation size. That's right - you don't even have to go to Austin to enjoy some of the best on offer. Through the week, some films will be broadcast simultaneously through on-demand cable stations Cablevision, Comcast, Cox Communications, Time Warner Cable and Bright House.
Here's what you can see from the comfort of your living room: Red, White and Blue is about the troubled relationship between a nymphomaniac and a war veteran. Primal is about an group of Australian backpackers who are terrorized when one of their own turns into a predatory beast. In High Lane, another group of travels make their own trouble when they try to go through an unstable mountain pass. The fourth film, Heartless, follows an outcast who learns the hard way that unsavory deals with supernatural creatures don't end well.
But there's much more to see if you're able to make it to the Fest. Check out the schedule here. It's worth browsing through, even if you can't make it, because many of these indies and foreign films will eventually make it to on demand or your local DVD rental spot. Often, you'll hear about these gems at Fantastic Fest first.
Tickets to Fantastic Fest are still available here. There's upcoming stuff that should be more fun than being buried alive. There will be viewings of 3D movies Megamind and Jackass, and 3D tutorials. If, by some miracle, Jackass doesn't make you lose your appetite, the closing night party will be in a ghost town and be catered by a man cooking a whole cow over a fire.
But for those who can't get away, see what it's like to watch buried while buried below.