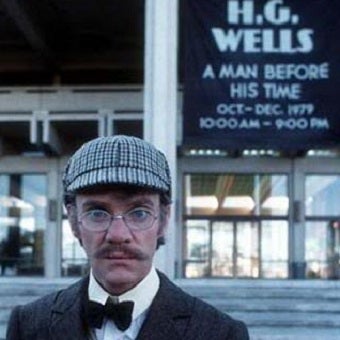 Amazing news: One of Britain's funniest, cleverest authors is writing a novel about the life of H.G. Wells, and it comes out next April. David Lodge, author of the Booker-shortlisted Nice Work, will provide "fascinating insight" into Wells' life.
The "fascinating" quote comes from Lodge's long-time editor, Geoff Mulligan, who adds:
Wells emerges from this as a brilliant, complex and fascinating man, who was central to the great intellectual debates of his day and became perhaps the most famous writer in the world.
A Man Of Parts will be published by Harville Secker and Vintage, two Random House imprints. No clue when it comes out Stateside.
There have been tons of fictional portrayals of Wells, but this may be the first literary novel that treats him as an intellectual of his day. (And no, I don't think Wells will turn out to be a sassy woman who wants to destroy the human race with a magic trident. Just guessing.)
Lodge is one of my favorite living authors, and he's arguably best known for satirizing academic life and politics, especially in Changing Places: A Tale Of Two Campuses, in which a trendy American adademic goes to Britain, and its sequel, Small World, which might be on my list of the ten funniest books I've ever read. So Lodge's take on one of science fiction's most important writers is bound to be a must-read. [The Bookseller]