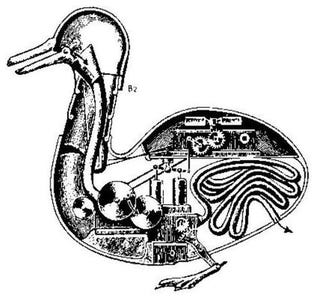 Modern biomimesis makes solar cells grow like plants, molecules walk like people, and art run like centipedes. But it's a very old science. Take a look at ancient engineers who made lifelike machines fight, sing, flirt, and yes, poop.
Biomimesis is the science of imitating life. Today, scientists copy the mechanical functions of a body to make robots that can walk, and the functions of a brain to create artificial intelligence. This is one of the forefronts of modern technology, a kind of final frontier.
But it turns out that engineers and scientists have been settling that frontier for thousands of years. Mary Shelley assumed that the creation of life was going to happen through the science of biology. These people wanted to create it through mechanics.
One of the most famous of those scientists was Heron (or Hero) of Alexandria, who lived around 100 AD. Like many of the Greeks, he decided that he was going to be the father of something, and not one of those stupid, temporary 'children' that everyone was talking about. Instead he decided to be the father of pneumatics, the science of using pressurized steam to cause motion. His notebooks contained sketches of fountains and siphons, but he really made his name with his so-called 'miracles'. They were statues that used steam power to move, and they made a big splash in temples, where people gathered to watch scenes of legend re-enacted by living statues.
Looking at the scene, it's not difficult to know what's going to happen. Until the dragon lobby gains power, the man with the club is always going to wack the monster a good one. What was impressive about this figure is, if the man turned aside, a suction was created which allowed the dragon to 'drink' any water that was presented to it. Then the man turned back and smacked it again. Life isn't fair, sometimes.
Dragons got a better press in China around a thousand years later, where they got to unleash hell on their human oppressors. Engineers actually managed to make a dragon-shaped rocket that spit fire on opposing forces.
That was a step back for the Chinese, who in 1000 BC had robots walking around. Yan Shi, an engineer, made a walking, singing, lecherous human figure and presented to the reigning king. It had to be taken apart when it supposedly started making advances on the king's ladies. Other inventions around the same time include a horse that moved on springs and birds that flew.
All well and good. Motion was an excellent thing, but people knew that mechanical parts moved. And singing was amazing, but most societies had wind instruments and could recognize them. That drinking statue was a good bit, but there was one criteria for life that only people without indoor plumbing could really understand: does it poop?
In the seventeen hundreds, a proud Frenchman stepped forward and assured the masses that yes, yes it does. Jacques de Vaucanson was a well-known maker of automatons. He was also obsessed with anatomy, and wanted to make models of it that actually moved. In 1730s, he surpassed himself. He presented a duck which flapped its wings, moved around, wagged its tail, quacked, ate, and after eating did what all living beings do. People were amazed, and Vaucanson toured Europe, getting people to hand over a lot of money to see a duck crap.
Although sketches of Vaucanson's duck still survive, the actual model is gone. There is some dispute over how exactly the duck digested its food, but most people go with the simplest solution. In a time when there wasn't a large stretch of highway between people and their food, it wasn't hard for a rich guy to get hold of some duck poop. One of the internal compartments probably was storage for it. Still, the mechanical duck had hundreds of moving parts, and remains a high point of early biomimesis.
Makes you happy that now we're focusing on brains now, though, doesn't it?
Via Cal Arts, Handworx, History of Hydraulics, and China History Forum.