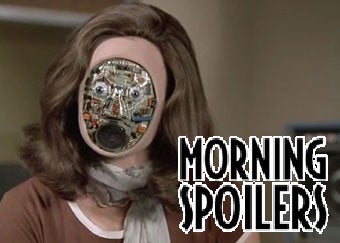 The British city of Manchester is heading back in time and across the Atlantic to play 1940s New York in Captain America. Watch a scene from Never Let Me Go. Steven Moffat promises answers to Doctor Who's River Song mystery.

Captain America:
This video shows the crew transforming 2010 Manchester into 1940s New York. The report also notes that they are shooting a car chase in the city, and sixty vintage American cars are being specially imported. Also, the other British city involved in filming, Liverpool, is hosting a giant model of a World War II submarine. [How-Do; thanks to Doug Fisher for the tip!]
Never Let Me Go:
Check out this preview clip from the movie, in limited release this week: [Yahoo Movies]
Robopocalypse:
Steven Spielberg is reportedly considering directing the adaptation of the (still not released) novel Robopocalypse. This may not mean much, because as the original report astutely notes, "with DreamWorks, everything is potentially a [Spielberg] project - until it's not," and either way Spielberg has at least three or four projects to work through before he could take on anything new. So take this with a grain of salt, but considering how well he unleashed hell in The War of the Worlds, this seems worth keeping an eye on. [New York Magazine]
Breaking Dawn:
In what could well be the defining moment of our generation, the casting call has gone out for Edward and Bella's half-vampire daughter Renesmee:
They are currently looking for a 4 year old Caucasian girl who has some acting experience and is confident on a film set environment. This girl should have self-composure, good physical posture, and be very attentive, able to take direction well, and be quick to react. They also would prefer a girl with dance training.
Dance training, eh? Please say the entire series ends with a completely inexplicable, twenty-minute jazz rock dance number. Is that really so much to ask? [Acting Auditions]
Transformers 3:
Here are some Detroit set pics. Check out the link for some additional context and more pics: [TFLAMB]

Chawz:
Check out a bunch of pictures from Chawz, which is basically Jaws if the shark was a giant boar and it was a South Korean horror comedy. (In other words, if it was vastly superior to the original Jaws.) There are a ton more photos at the link, but here's a taste of the giant boar goodness: [Undead Backbrain]

Fringe:
The Wire alum Andre Royo will be reprising his season premiere role as a cab driver Olivia encounters during her escape attempt over there. He will reportedly appear in another episode this fall. [The Ausiello Files]
Is everyone ready for an inter-dimensional love triangle? Fringe sure hopes so, and they have this video explaining how Peter will come to choose between Olivia and alt-Olivia: [FringeTelevision]
And here's one more video where the cast members discuss the alternate universes: [FEARnet] Click to view

Speaking of Peter and alt-Olivia, their relationship reportedly moves much faster than it ever could have with the real Olivia, which is part of what clues Peter into the fact that something is up. [Fancast]
Walter's two main activities as the season begins will be figuring out that mysterious doomsday device and grieving the loss of William Bell...but these two activities will soon intertwine. [TV Guide]
Episode four will be called "Do Shapeshifters Dream of Electric Sheep?" I'll save you the trouble of pointing out that title makes no logical sense, but it's a cool reference nonetheless. [SpoilerTV]
Finally, a few new promo photos. Some of these may be old, but most are new: [SpoilerTV]

Doctor Who:
In Doctor Who: The Brilliant Book 2011, Steven Moffat dropped some good hints on what lies ahead. First, the Christmas episode:
"This one's incredibly Christmassy. That's true of the previous ones but I wanted to go for broke. It's easily the most Christmassy thing you'll ever see. It's a huge, sentimental, lovely, jeopardy-driven story. It's the Christmas special I'd like to see. It's like a compilation of every Christmas movie. A big Christmas treat. But that doesn't mean it's without scares, and that doesn't mean it's without heartbreak. It has genuine tragedy in it."
He confirmed again that this season is all about "the silence", and he referred to the silence as "they". He says this season will be something of a departure from the tradition of a word or concept appearing in minor ways throughout the season before paying off in the finale (Bad Wolf in series 1, Torchwood in series 2, Mr. Saxon in series 3, Rose in series 4, and the cracks in series 5, just so we're clear). He suggests this season will actually tackle "a bigger mystery and a bigger story" than what's been possible before. He also says some mysteries will be resolved fairly quickly.
Speaking of which, on the true identity of River Song:
"That's absolutely coming. You're going to find out very soon, and that means we have to do it next series, really… The critical thing here is I want to explain who she is, not explain away who she is. If you don't deliver on most people's expectations, and you just say, 'Ooh, she's a specially programmed android who believes she's the Doctor's wife,' people will go, 'That's a cheat.' You can't do that… It's a really good story, and it's sort of the story of next year."
[SFX]
Here's one of our very first looks at Matt Smith, Karen Gillan, and Arthur Darvill filming season six. They are thought to be filming Mark Gatiss's episode right now, which reportedly "included flat interiors, stairwells, corridors, and the area by the bins with an old lady and children. There was also late night filming in the garage section with the TARDIS." [Bleeding Cool]

Chuck:
Lou Ferrigno, who's playing a bodyguard named Gerard who the team encounter in Milan, shared some insight on his character:
"My character gets sidetracked when he falls in love. He's guarding an evil spy played by Victoria's Secret model Karolina Kurkova. When Chuck tries to discourage me, I try to take him down, but then he puts me in a trance."
[TV Guide]
Executive producer Chris Fedak says the show gets a lot of mileage out of Casey interacting with his daughter:
"We'll be exploring that relationship, and what it means to be a superspy with a daughter who's dating guys and having typical daughter issues. It's fun to watch Adam Baldwin, who's such a fantastic comedic actor, deal with those situations."
[Fancast]
A quickie synopsis for episode four is out:
Chuck and Sarah try to become better communicators as they join Ellie and Awesome on a trip to Costa Gravas. A forbidden romance may put Morgan at odds with Colonel John Casey.
[ChuckTV]
Supernatural:
Episode 3, "The Third Man", has a new synopsis:
Sam (Jared Padalecki) and Dean (Jensen Ackles) call Castiel (Misha Collins) for help when they investigate a case about several dead police officers who seem to have been killed by the plagues of Egypt. Castiel confirms the staff of Moses was used to kill the cops and tells Sam and Dean that Heaven is in a state of chaos and God's weapons have been stolen. The three head off to find the thief and come face to face with an old enemy.
Here's a creepy-looking set photo from episode 7, "Abandoned": [twitpic]

The Event:
The second episode will quickly make with the explanations, revealing how the Inastranka detainees came to America and what happened to the jet, and apparently "both answers involve crashes." Of course, President Martinez has plenty more questions he isn't getting any answers to. [TV Guide]
And speaking of which, here's a promo for episode 2: [SpoilerTV]
A short summary of episode four for your perusal:
The White House must deal with a mysterious biological threat. Carter and Vicky keep their hostages alive while waiting for more instructions. FBI Agent Collier discovers Vicky's secret life.
V:
Jay Karnes, best known for his work on The Shield, is reportedly taking on the recurring role of Erica's new FBI partner, Agent Chris Bolling. [TV Guide]
Smallville:
Friday's premiere episode will reportedly feature Clark's, our, and someone else's first look at the iconic blue and red suit.
Also, the show will reportedly get some real laughs out of the fact that Lois now knows Clark's secret but Clark doesn't know she knows (there's gotta be a quicker way of saying that), including one particularly funny scene where "Lois goes fumbling for a pen." [Fancast]
Another report confirms Lex Luthor returns, in a sense. (But Michael Rosenbaum definitely doesn't.) You can find a bunch more little teasers at the link. [Zap2It]
Speaking of Lex Luthor not being played by Michael Rosenbaum, Mackenzie Gray has reportedly been cast on the show. A quick look at his headshot (you can see it at the link) shows he looks an awful lot like Lex Luthor...at least in the sense that he's completely bald. [SpoilerTV]
Lindsey Hartley, wife of Green Arrow portrayer Justin Hartley, has been cast in the eighth episode, "Abandoned." She doesn't have scenes with her husband, but she's described as "wickedly dangerous" and "she'll have her hands full with Clark!", according to executive producer Kelly Souders. [TV Guide]
Haven:
Eric Balfour gave this summary for the final few episodes, which was refreshingly honest, if nothing else:
"The last four episodes of the seasons feel really indicative of where 'Haven' could go and what it could be. Except for maybe episode 12. I'm still arguing with them about my storyline in episode 12. It didn't make any sense to me. But 10, 11 and 13 are awesome. Emily's storyline in episode 12 is awesome; I was just grumpy about my storyline because I didn't understand it."
[mrmedia]
Sanctuary:
The season premiere reportedly continues directly from the season finale, but by the end of the episode the new big season arc is in place. Also, this season's guest stars include the return of Christopher Gauthier as Walter the Adjustor (but better known as Vincent on Eureka) and Caprica's Polly Walker. Some other characters from Helen's past will also make an appearance. [Fancast]
Additional reporting by Mary Ratliff, Charlie Jane Anders, and Annalee Newitz.