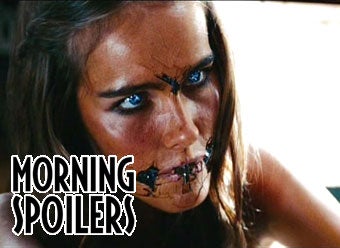 J.J. Abrams' Super 8, X-Men: First Class and Tim Burton's full-length remake of Frankenweenie all gain castmembers. Linda Hamilton talks about her crucial role on Chuck. Discover the truth about the TimeCop remake! Plus Supernatural, Smallville and No Ordinary Family.

Super 8
J.J. Abrams' homage to E.T. and Close Encounters of the Third Kind is starting to fill out its cast. We already knew about Kyle Chandler and Elle Fanning, but now a bunch more names have reportedly joined the production. Still no word on who anyone is playing, but Ron Eldard, Noah Emmerich, Gabriel Basso, Joel Courtney, Riley Griffiths, Ryan Lee and Zach Mills reportedly make up the rest of the main cast. [Hollywood Reporter]
And here are some of the first photos showing 2010 Weirton, West Virginia being transformed into 1979 Lillian Heights, Ohio. More at the link: [AICN]

Kick-Ass 2:
Star Aaron Johnson confirmed the movie is at least nine months away from starting production, which fits with Mark Millar's comments on the subject. Johnson says the wait is because "it kind of goes through Matthew Vaughn", who is busy directing X-Men: First Class for the foreseeable future. Speaking of which... [Moviefone]
X-Men - First Class:
Another mutant has reportedly been cast. Álex González, who has primarily worked in Spanish language productions, will reportedly play Riptide, a mutant who can spin at incredible speed, shooting calcium deposits from his bones at great speeds. (Seriously.) [Blog De Superheroes]
Transformers 3:
Tyrese Gibson has tweeted that he's finished filming and has now moved onto his next project, The Fast and the Furious 5. Much like Transformers 3, we assume this movie is some sort of Jane Austen adaptation. [TFLAMB]
Frankenweenie:
Tim Burton's stop-motion feature adaptation of his 1984 live-action short has reportedly added four of his stalwart actors to the voice cast. Catherine O'Hara (Beetlejuice) and Martin Short (Mars Attacks!) will voice five characters apiece, Winona Ryder (Edward Scissorhands) is playing Elsie, and Martin Landau (Ed Wood, but he'll always be Commander Koenig as far as I'm concerned) is playing Mr. Rzykruski. [Deadline]
TimeCop:
Jean-Claude Van Damme's 1994 thriller about a cop who kicks ass through time (or something to that effect) is "inching" towards actually making the gritty reboot we've all been waiting for. Universal reportedly won't invite the Muscles from Brussels back for the new movie, instead wanting to cast a "major star" to take on the main role. Because when any self-respecting major star is looking for a new project, their first choice is recreating one of Van Damme's old roles. [What's Playing]
Chuck:
Linda Hamilton has given her first interview about her new role as Mary Elizabeth Bartowski. Here's how she describes the character:
Well, Mary Bartowski is the absentee mother of Chuck and Ellie and the most that I can really say about her is that ... she is not your ordinary homemaker. She disappeared because she was deep undercover as a spy. So she comes back into Chuck's life with an agenda and you know, she is definitely a strong, forceful [woman] — definitely a force to be reckoned with. It ain't all apologies and sentiment, that's for sure. She has her own agenda and it just kind of goes crazy from there. But we like crazy.
She also says she thinks the Thanksgiving episode is one of the best ever, and it isn't your ordinary Thanksgiving dinner. There is a ton more good stuff at the link. [TV Squad]
Here's an interview with Zachary Levi and Josh Gomez: [BuzzSugar]

And here's one with executive producer Chris Fedak. The second half of the interview is at the link: [SpoilerTV]
Supernatural:
Another new promo for "Exile on Main Street" is out: [KSiteTV]
Stargate Universe:
For anyone looking for a roundup of what we know about season two, there's an absolutely fantastic rundown over at Gateworld, discussing the future of the Lucian Alliance, romance on the show, who's going to find the bridge, and more. [Gateworld]
Haven:
Series star Emily Rose offers this tour of the town's locations: [SpoilerTV]
Smallville:
Here's a sneak peek at "Lazarus":
Tess portrayer Cassidy Freeman says she thinks this whole season is about making Clark turn into Superman, and that's what everyone on set wants to see happen, but the writers don't actually tell her that much: [OSCK]
According to one report, it appears Jonathan Kent is permanently back from the dead, and not just some sort of one-episode apparition. [E! Online]
No Ordinary Family:
ABC has released some short, silly interviews with Michael Chiklis and Julie Benz: [SpoilerTV]
Superman/Batman Apocalypse:
And here are some new images from DC's latest DVD movie: