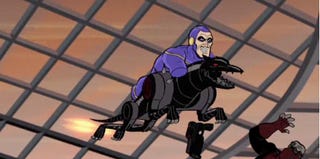 Last night's Venture Bros. saw the show's heroes and villains go through life ch-ch-changes. Hank and Dean graduated from their learning pods, and Phantom Limb reached out (an invisible, metaphorical hand) to an antagonist viewers haven't seen in a spell.
Last night's episode, "Pomp & Circuitry," was split evenly between two subplots — A.) Hank and Dean's graduation and vocational training; and B.) Phantom's Limb escape from The Guild of Calamitous Intent and his recruitment of Professor Impossible. For the sake of convenience, I will refer to the former subplot as "Subplot Chimp Eden" and the former as "Subplot Diamond Dogs."
Let's start with the stronger one, Subplot Chimp Eden. The episode begins with an exclusive look inside Hank and Dean's learning beds, and the entire spectacle is creepy as hell. We learn that Hank and Dean use these learning beds in lieu of school, and that Doc Venture simply recycled his old Learning Bed program for the boys (yes, Hank and Dean are taught by a video of their dead grandfather every night). Furthermore, the Doc has rejiggered the program to say "Hank and Dean" instead of "Rusty," a touch typical of Doc's half-assed parenting.
The boys finally graduate from their "nerd pods" this episode (Hank's first inclination is to replace them with bunk beds). Dean receives a crude print-out of a high school diploma; Hank doesn't. This leads to career counseling with Billy Quizboy, and one of the best gags of the episode entire series. Here's Hank's list of professions:
1.) Drifter, like the guy from Red Shoe Diaries or David Banner. Billy points out that David Banner was actually Dr. Bruce Banner, so being a drifter requires a PhD.
2.) "Owner and operator of Chimp Eden."
3.) Batman (Golden Age).
4.) Batman (Post-Crisis).
5.) A secutor gladiator (not one of those "gaylord" retiarius gladiators).
This counseling ends with Hank getting miffed (he doesn't want to go back to what Dean calls an "electric grandpa bed") and trudging off to join SPHINX. Rusty ushers Dean off to State University, where, oh, every adult character on this show received a college degree. Hank excels at SPHINX training (Hunter Gathers at first accuses him of being a graduate of the Albert Merrill School), whereas Dean can't get into State as a legacy candidate (Rusty blew up part of the campus as student, finished his degree in Tijuana).
Despite his espionage proficiency, Hank doesn't have a diploma and can't join SPHINX (he feels like that Jewish guy who got all his hair cut off and lost his powers...Lenny Kravitz). But lo! It turns out that Hank's learning bed just had his diploma jammed in the print chute. The final scene between Brock and Hank was an apt metaphor for the boy's relationship with their father. Rusty's languid parenting is holding Dean back, whereas Brock is the guy who can unlock Hank's full potential...even if it means getting his hands covered in "Vatican karate gorilla blood."
Subplot Diamond Dogs was less effective — this sequence followed Phantom Limb's escape from the Guild of Calamitous Intent, his dark seduction of Professor Impossible, the rebuilding of his muscle-building machine and his formation of a new Guild. This segment was steeped in Venture Brothers arcana — you really need to watch "The Revenge Society" again to get a full idea of what's going on. I love the show for its intricacies and massive ancillary cast, but it took me a second to remember that Phantom Limb was having sex with Dr. Girlfriend's old shoe.
Humor-wise, this segment played it straight most of the time, despite appearances from the punny, Diablo-esque Dr. Phineas Phage and his Pro-Teens. "The nucleotide has turned!" = Phineas Phage is my favorite arching foe since Dr. Dugong.
This portion of the episode wasn't bad, but its exigency seemed out of place. Given Venture Bros. scattershot storytelling (this isn't a complaint), we probably won't see the toxic fruits of Phantom Limb's machinations for another couple episodes. Nonetheless, it was great to see cameos from old-school foes like Roy Brisby and Baron Ünderbheit. This show rewards long-time viewers something fierce.