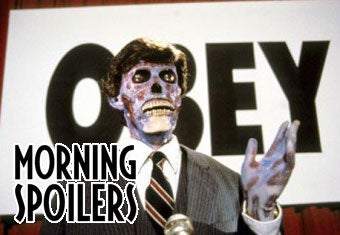 We finally learn something about J.J. Abrams's top secret movie project, with two great actors cast. There are new videos and photos out for Fringe, The Walking Dead, Supernatural, Smallville, Caprica, The Sarah Jane Adventures, and so much more! Spoiler-ha!

Super 8:
J.J. Abrams's super secret Spielberg homage has reportedly gained its first two actors, and they're both pretty awesome. Friday Night Lights star Kyle Chandler and Elle Fanning, Dakota's younger sister, have been cast. It's possible Fanning is playing this previously described role: "Female 13-14. A natural beauty - she is stunning, but not the 'cheerleader' type. Strong and confident, but has an underlying sadness. Should have a Midwestern feel." [Vulture]
Batman 3, Superman Reboot, and DC Movies:
Warner Bros. CEO Barry Meyer says plans will be released in the very near future (probably this week) for how DC Comics characters will fit into the studio's plans going forward, with specific plans for individual characters coming in about a month. This likely means we won't have long to wait for more official details on Batman 3 and the Superman reboot Christopher Nolan is overseeing. [Heat Vision]
Tron Legacy:
Here's the latest character poster, spotlighting a promising up-and-comer named Jeff Bridges: [HeyUGuys]

Dredd:
Karl Urban talked about playing Judge Dredd, reaffirming that this movie will be darker than the Sylvester Stallone version (although what can be bleaker and more disturbing than casting Rob Schneider!?) and suggesting that a key part of the character is the enigma that comes with never removing his helmet. So all those looking to swoon over Karl Urban's chiseled good looks for two hours...this may not be the film for you. [Empire Online]
Let Me In:
Here's another poster: [Empire Online]

Cowboy Bebop:
In case anybody was wondering (somehow, I'm doubtful), Keanu Reeves's plans for a Cowboy Bebop movie are definitely dead. [Collider]
Fringe:
According to a new spoiler report, Walter may start to slip back into insanity, Walternate may have some big surprises in store in terms of his real motivations, and Peter's quest to fully understand his origins will pay off in a big way at the end of the season. [The Ausiello Files]
Here's another season three promo: [SpoilerTV]
And one more promo for the premiere, "Olivia": [Fringe Television]
Along with three sneak peeks at that episode: [SpoilerTV]
A description for the "over there" episode three, "The Plateau":
In this case, timing is everything as a series of anomalous events lead the Fringe Division to investigate deadly incidents with unimaginable coincidences. As the freaky crimes continue to occur, the team is in a race against time to protect potential victims. Meanwhile, Secretary Bishop shares his strategic plan with Colonel Broyles as Olivia grapples with a heart-stopping vision.
And finally, some set photos: [SpoilerTV, Susan Gittins's Flickr]

The Walking Dead:
A new promo is out: [ShockTillYouDrop] Click to view

Chuck:
In an interview with Chris Fedak and Josh Schwartz, the show's executive producers make it completely clear that Timothy Dalton is not Chuck's real father, saying that would desecrate the memory of Scott Bakula's Steven J. Bartowski. They don't give out any major new details, but the interview is well worth reading for an overview of where these thirteen episodes are headed. [TV Guide]
In another interview, Chris Fedak explains how one reconciles Steven Bartowski's final message that Chuck was destined to be a spy with the fact that he accidentally got the intersect downloaded into him:
I think it was a bit of a coincidence. I don't think Stephen J. Bartowski wanted his son to be a spy, but by hook or by crook he became one – kind of like how the Godfather didn't choose Michael to run the family, and yet he was perfectly fit to do that. [Pauses] I like how I just compared 'Chuck' to an Academy Award-winning film. But the notion of what Steven said is what we explore this year: "Am I the person my father thought I was?"
Again, there's plenty more at the link. [Fancast]
Here's a new sneak peek for the first episode, "Chuck vs. the Anniversary": [SpoilerTV]
Along with one more general promo to get you all excited for the season premiere: [ChuckTV] Click to view

Supermodel-turned-actress Katie Cleary will play the mysterious Laura (who is, in all probability, some sort of spy) in the first few episodes of the new season. She explained her character thus:
Laura is a flight attendant who works for Marco, Dolph Lundgren's character. She may be a little more than just a flight attendant, though!
[ChuckTV]
A new synopsis is out for the third episode, "Chuck vs. the Cubic Z":
CHUCK AND SARAH'S PAST COMES BACK TO "HUNT" THEM WHEN A PRISON TRANSFER DELIVERS OLD FOES TO THE BUY MORE—NICOLE RICHIE, STONE COLD STEVE AUSTIN AND STACY KIEBLER GUEST STAR — Chuck (Zachary Levi) and Sarah's (Yvonne Strahovski) romantic mission is cancelled with the arrival of Hugo Panzer (guest star Stone Cold Steve Austin) and Heather Chandler (guest star Nicole Richie). But Chuck grows more interested when the manipulative Heather claims to know a secret about his mom. Meanwhile, as Morgan (Joshua Gomez) prepares the Buy More for a huge video game release, he gets a surprise from Big Mike (Mark Christopher Lawrence).
And here are a couple images from the premiere: [SpoilerTV]

The Event:
A synopsis is out for the second episode, "To Keep Us Safe":
As the shockwave of the plane dissipates, President Martinez's (Blair Underwood) staff must work quickly to assess what happened and how to respond. Director of National Intelligence, Blake Sterling, (Željko Ivanek) locks down Sophia (Laura Innes) for interrogation. The conspiracy widens, engulfing FBI Agent Collier (guest star Heather McComb) and Carter (guest star D. B. Sweeney), a mercenary with questionable ties. Meanwhile, a shadowy figure, Thomas (Clifton Collins, Jr.), emerges with knowledge of the detainees and their plan.
True Blood:
The show's future reportedly includes a trip to the silver screen. Much like Sex and the City (and maybe Entourage), HBO is reportedly planning on making a couple movies after one or two more seasons on TV. Alan Ball is reportedly determined to direct the movie. [What's Playing]
Supernatural:
Another season six promo is out: [SpoilerTV]
Here's a synopsis for the second episode, "Two and a Half Men", along with some photos:
Sam (Jared Padalecki) investigates a case about missing babies whose parents are being murdered. At one of the crime scenes, he discovers a baby that was left behind and calls Dean (Jensen Ackles) for help. Reluctant to leave Lisa (guest star Cindy Sampson) and Ben (guest star Nicholas Elia), Dean finally agrees to meet Sam and surprises his brother with how parental he has become. The brothers take the baby to Samuel (Mitch Pileggi), who decides to raise it as a hunter, which infuriates Dean. However, before they can decide the baby's future, a shape-shifter breaks in and attempts to kidnap the baby.
Now here's a description for episode three, "The Third Man":
CASTIEL RETURNS - Sam (Jared Padalecki) and Dean (Jensen Ackles) call Castiel (Misha Collins) for help when they investigate a case about several dead police officers who seem to have been killed by the plagues of Egypt. Castiel confirms the staff of Moses was used to kill the cops and tells Sam and Dean that Heaven is in a state of chaos and God's weapons have been stolen. The three head off to find the thief and come face to face with an old enemy.
And here's an interview with Misha Collins: [SpoilerTV]
Doctor Who:
According to his CV, Adam Rickitt will play Ben in Neil Gaiman's episode. [Spotlight]
The Sarah Jane Adventures:
Here's a clip from the upcoming Eleventh Doctor and Jo Grant reunion episode, featuring our first good look at Katy Manning as the older Jo: [Blogtor Who]
And here's a synopsis for the episode:
"When the Doctor is declared dead, old companions Sarah Jane and Jo Grant meet for the very first time, and join forces to discover the truth. As an interstellar conspiracy gathers around UNIT HQ, Clyde finds that he holds the fate of the Time Lord in his hand – quite literally."
Caprica:
Syfy has released some promo pictures from the mid-season premiere, "Unvanquished": [CapricaTV]

Warehouse 13:
Showrunner Jack Kenny had tweeted that the show is definitely coming back for a third season, although an official pickup may not be for a while. He then deleted the tweet, saying he had "misconstrued" the conversation, although he says everyone remains hopeful. [@JackKenny]
V:
Oden Fehr has joined the show as Eli Cohn, an ex-Mossad agent who will be a much more radical kind of Fifth Column leader. Scott Rosenbaum says Eli and Erica have a shocking connection that will make her question whether they're really so different, but he said he couldn't reveal it because it's too big. He also explained why Cohn and his team are much more violent and pro-active in their approach:
"Oded's character Eli actually knows a lot more about what the Visitors are up to than our team does. And what he's learned is that the longer we wait to fight the more we play into Anna and the Visitors' hands, because everything she's doing is a Trojan Horse. The Blue Energy is a gift, but really it's just to get us all stuck on Blue Energy so they can turn it off."
[IGN]
According to another report, his character will debut in the fourth episode and appear in at least three episodes. [SpoilerTV]
No Ordinary Family:
Here are some new photos from the second episode, "No Ordinary Marriage": [DH-Central]

And a synopsis for the same episode:
Jim attempts to track down some elusive bank robbers, Stephanie looks into discovering the source of the family's newly acquired powers, and Daphne, trying to find a way keep the voices in her head from drowning out her ability to read minds, discovers that JJ has become a super genius but is hiding it from the family. Meanwhile Jim and Stephanie not only keep their powers a secret from the world but from each other too, as Stephanie discovers Jim has become a crime fighter and Jim finds out that Stephanie has used her new power of speed - after promising not to.
[KSiteTV]
While here's a description of episode three, "No Ordinary Ring", along with some photos:
After Stephanie's ring is stolen during a robbery at a high-end wedding, Jim and George become wedding crashers in an attempt to catch the thugs. Meanwhile, after learning that assistant Katie misguidedly used her own blood to cover for Stephanie's company physical exam – fearing that the results would reveal her powers – Stephanie is forced to use her powers in order to retrieve the blood sample from a secure lab; against her parents' wishes, Daphne wants to tell her friend Megan about her telepathic abilities after she inadvertently reads her mind and blurts out what she heard; and JJ asks Daphne to scan the mind of a cute girl to find out if she has feelings for him.
[KSiteTV]

Smallville:
The season premiere "Lazarus" has a new promo: [SpoilerTV]
Here's one more season 10 promo: [SpoilerTV]
Supergirl actress Laura Vandervoort says there will be a lot of revelations about her character this season, and that she's returned to teach Clark some important lessons. She drops some other hints about the new season, but perhaps the most shocking reveal of all is when she calls the 1984 Supergirl movie "great," which I feel confident saying is the first and last time that has ever happened. Here's the entire interview: [SpoilerTV]
Aquaman portrayer Alan Ritchson said again that his character will be darker this season, and he said in general this season is going to break some "hardset rules" about the show. [On The Red Carpet]
Here's a brief synopsis for episode three, "Supergirl":
Kara returns to Earth and tells Clark that Jor El sent her to stop the dark force that is coming; Lois confronts a shock jock who is crusading against heroes after he threatens the Green Arrow.
Terra Nova:
It's official: Fresh off playing the villainous but badass commander in Avatar, Stephen Lang has reportedly signed on to play the villanous - or, at the very least, ruthless - but badass leader of the Terra Nova colony. [Deadline]
Additional reporting by Kelly Faircloth and Charlie Jane Anders.