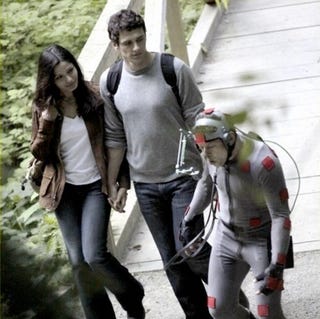 Take a look at Andy Serkis in the mocap suit he'll be sporting while he plots his domination over all of mankind. Rise of the Apes is the origins story of Caesar, the world's most devious ape.
Also in the shot is James Franco and Frieda Pinto, who appear to be Caesar's caretakers. Frieda is a primatologist.
Synopsis
Rise of The Apes is an origin story in the truest sense of the term. Set in present day San Francisco, the film is a reality-based cautionary tale, a science fiction/science fact blend, where man's own experiments with genetic engineering lead to the development of intelligence in apes and the onset of a war for supremacy.
The tentative release date is set for June 24, 2011.
[via Just Jared and WENN]