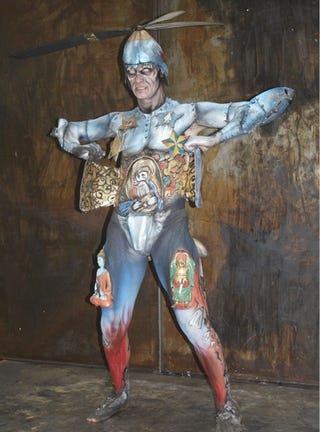 Holy cow, this body art is insane. We're not sure whether to applaud or run for our lives from this creepy zombie propeller-head being.
We love it when body art is more than just an excuse for the public to stare at a naked human being. Artist Yolanda Bartram is leagues above the old painted-on bikinis. Not only was she just awarded first prize at the 2010 World Body Painting Festival, but I think this creation up top will haunt our dreams for decades. Well done.
According to Auckland Stuff the "Armageddon Day" piece took seven hours to complete. The idea took inspiration from World War II planes, wartime paraphernalia, and rockets. We've never seen a half human/half vintage plane before, but if we did we bet it would look like this.
Check out more of her work at Body FX.