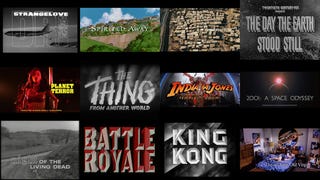 It's usually the first thing you see in a film — the title — and some filmmakers have elevated that moment to high-design art. And one enterprising lover of typography and cinema has created an online storehouse of the best.
Christian Annyas is a website designer who loves movies. According to his site, "I've seen a lot of movies over the years, and to prove I've sat through at least the first ten minutes of them I started making screenshots of the titles." Lucky for us, because Annyas has hundreds and hundreds of title cards on his site, cataloged by year from 1902 to the present.
Seriously, go look. It's awesome.