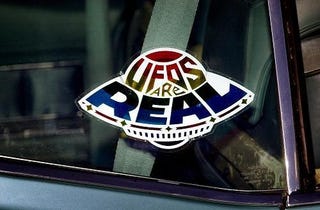 Jeff Peckman, the indefatigable UFO hobbyist and lobbyist, has secured a place on next year's ballot for Denver citizens to approve his Extraterrestrial Affairs Commission. Will Denver become known as the city that opened its doors to the universe?
Peckman made headlines last year by claiming to have footage of a living alien (the video, as might be guessed, isn't especially conclusive one way or the other), and later by imploring then-candidate Barack Obama to sit down and chat about what the shadow government might or might not know about extraterrestrials. Now, Peckman has found another route into the political process, having gathered the 4,000 signatures he needs to put a proposal for an Extraterrestrial Affairs Commission on Denver's August 2010 primary ballot.
The full text of Peckman's ordinance, which will be written into Denver's municipal code if it passes a vote, is available online. It calls for a council of seven volunteer members who could then select an additional four from the Denver population, and notes that "Members who are not Denver residents may participate from anywhere in the universe by any means available."
By Peckman's design, the commission would include at least one Ph.D. each in the "natural sciences" and "social sciences," as well as a medical doctor and various experts in witness testimony and extraterrestrial investigation. Among their responsibilities:
To obtain and provide the most accurate, complete, credible, and relevant information available to city government personnel and residents about extraterrestrial intelligent beings on Earth [...]

To assist residents and visitors in reporting sightings of, or interactions with, extraterrestrial intelligent beings or their vehicles, and refer them to the proper and most appropriate public or private service agencies [...]

To develop protocols for peaceful and diplomatic contact with extraterrestrial beings in the event of contact.
For someone so committed to inter-species diplomacy, though, Peckman has had no trouble making enemies — his campaign to be included on Denver's ballot has occasioned all kinds of opposition. Some Denver residents are worried about how Peckman's proposal will reflect on the city, while serious-minded groups like the Mutual UFO Network and Roswell's International UFO Museum and Research Center feel that Peckman's efforts make them all look silly.
For his part, Peckman seems to be in dead earnest about the need for a state apparatus devoted to alien visitations, a goal he's been seeking for over a year. It's hard to tell how many people agree with him; the campaign actually submitted ten thousand signatures to election officials, but six thousand of them were found to be invalid, according to city records [opens in PDF]. This doesn't necessarily mean anything, although it suggests that Peckman doesn't have much of a mandate. Still, if Denver-area cattle keep turning up with oddly precise mutilations, he may end up with more people in his corner than he expected.