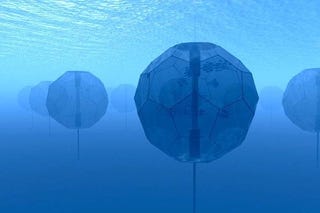 As the cities on Hawaiian islands grow larger, they'll start developing offshore, building underwater resources for residents. Already a plan is underway to cool Honolulu using ocean water; and offshore farming there could turn oceans into food production areas.
Over at the Food Futurist, Christophe Pelletier describes a new study from BioScience on the viability of offshore fish farming. He writes:
From an environmental point of view, the idea of shifting the production of animal protein from the land where it uses scarce resources such as land and water, to the ocean where space and water are no limitations anymore sounds very sensible. From a nutritional point of view, replacing meat and dairy by seafood that is rich in healthy components such as omega-3 fatty acids is quite attractive, too.
He could easily be describing the future of farming, especially in areas like Hawaii or Japan.
Meanwhile, Inhabitat points to a real-life ocean-industrial setup that's coming online soon in Honolulu. It's an energy-efficient cooling system for the city that uses cool water from the ocean to keep buildings cool too. They write:
Frigid seawater pumped in from the ocean's depths will soon help cool more than half of the buildings in Honolulu's downtown. Honolulu Seawater Air Conditioning LLC, which is undertaking the $240 million project, expects its technology to cut the Hawaiian city's air conditioning electricity usage by up to 75 percent while slashing carbon emissions and the use of ozone-depleting refrigerants.
Ocean engineers, your time has come.