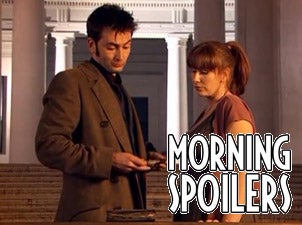 We've got buckets of big-screen spoilers this morning, with talk on Thor, John Carter, Deadpool, Green Lantern, and Avatar. We've got lesbian vampires, both in the movies and on True Blood. Plus, Lost, Fringe, and Better Off Ted news.

Thor
Stan Lee has been tweeting about his cameo:
Due to Thor, I must start rehearsing my thee's and thou's. So, if thou objecteth not, I wish thee well! 'Nuff saideth.
He could be yanking our chains, but perhaps Lee won't be walking amongst the modern mortals. [Twitter]
We get a casting call for several human characters and one Martian:
Synopsis: A damaged civil war veteran finds himself mysteriously transported to Mars where his involvements with warring races of the dying planet force him to rediscover his humanity.

[STABLE BOY] 9 yrs old, Mestizo – a mixture of European and Native American or Mexican decent, no lines, 1 scene

[DIX] The storekeeper, 40's – 50's, built like a lumberjack/longshoreman, strong & husky, 5 lines, 1 scene

[1ST ROWDY] Late 20's – early 30's, rough and dirty, worn looking, 1 line, 1 scene

[2ND ROWDY] Late 20's – early 30's, rough and dirty, worn looking, 1 line, 1 scene

[CAVALRYMAN/SERGEANT] Early 30's, clean cut, 2 lines, 1 scene

[US STOCKADE PRISON GUARD] Mid 20's – early 30's, clean cut, 4 lines, 2 scenes

[APACHE LEADER] 40's - 60s, Native American, must speak Apache, wise and experienced with a weathered face. Multiple lines, 1 scene

[TWITCHY CORPORAL] 20's - 30s, a shifty bad guy, not to be trusted. 1 line, 1 scene.

[YOUNG THARK WARRIOR] 20'S, tall (6' PLUS), athletic, experience working on stilts, MOTION PICTURE CAPTURE ROLE
Deadpool
Rumor has it that Zombieland writers Rhett Reese and Paul Wernick will pen the Deadpool script. [Cinematical]
Green Lantern
Ryan Reynolds wants to quell fears that he'll play the Green Lantern too close to Deadpool:
"I think there was some concern that I would make Green Lantern some kind of wise-cracking Wade Wilson-type, and that's not the case at all," he explained. "If that's what they wanted, why would I have screen-tested for the movie?"
[MTV]
Avatar
The final poster gives us more floating heads. [/Film]
New images give us some busty bloodsuckers. [ShockTillYouDrop]
The werewolf movie has earned itself an R rating from the MPAA "for bloody horror, violence and gore." [ShockTillYouDrop]
True Blood
We'll be seeing more of vampire Pam next season. Kirstin Bauer is being upgraded to series regular, and Pam is getting a "meaty" storyline — and maybe a girlfriend. [The Hollywood Reporter]
Lost
Jin and Sun have been filming scenes set in the alternate reality at the Turtle Bay Hilton. In those scenes, we'll also see Keamy, Omar, and Russian Other Mikial. [DarkUFO]
Striptease workout entrepreneur Sheila Kelley will be in at least four episodes this season, but won't be playing corporate spy Kendall. As for whether her stripping skills will coming into play:
"Once you see what I'm doing on Lost, you'll get the humor in that. I guess you can say I'm bringing some of the skills onto Lost, but not as obviously as you might think."
She also says she (Kelley, not her character) is "obsessed" with Sayid, leading to speculation that she'll have some scenes with Naveen Andrews. [E!]
And a set spy grabbed a photo of the new submarine. Larger image at the link. [DarkUFO]
Fringe
Walter's wife and Peter's mother has been cast at last. Irish actress Orla Brady will play the smart and likable third member of the Bishop family. [EW]
Better Off Ted
Creator Victor Fresco says that we'll see some progress in Linda and Ted's relationship by the end of the season, and the relationship between Linda and Veronica will begin to thaw. The two women will have a few adventures together and will develop a grudging, but mutual, respect. Ted's wilder brother comes to town, played by Eddie McClintock. Ted's brother hasn't had a lot of luck with Jobs, so Ted gets him a job at Veridian Dynamics. But his brother screws up one too many times, so Ted lands him a job selling lab equipment. Phil and Lem end up being his best customers, buying all sorts of stuff they don't need, including a cadaver supply membership. Key line: "Every day we get a new dead body whether we're finished with the old one or not." The show also gets a new cast member in Merrin Dungey. She appears in three or four episodes, including one episode where Linda tries to comfort her and ends up accused of sexual harassment. But Veridian deals with its sexual harassment problem by having it reclassified as a disease so that no one can sue for it. [E!]
Heroes
This season's 19th episode is titled "Brave New World." [Spoiler TV]
Additional reporting by Josh Snyder.