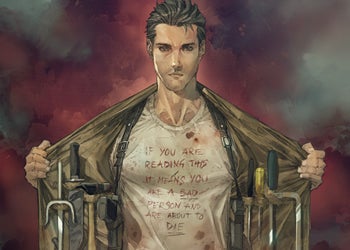 From magical realism to those forced to kill in order to survive, it's as if comics this week have taken on the very properties of the holiday season. There's even a Holiday Special, just for the traditionalists!
It's a strange mix of new releases this week, as the industry seems to be slowing down for the holidays and yet still managing to release a few must-reads (including a strong contender for book of the year), but we'll get to them later.
Instead, let's start with the TV and movie tie-ins of the week: Battlestar Galactica: The Final Five collects the mini-series that told a possible backstory for everyone's favorite Cylons, and it's better than you might expect. Meanwhile, Star Trek Alien Spotlight: Cardassians fulfills a similar role for Deep Space Nine's ridge-headed badguys. It's clearly backstory week, because Marvel's Ender's Game: War of Gifts special issue also fills in some blanks. Thankfully, DC's Dante's Inferno video game tie-in is much more straight-forward in just adapting the game... that adapts the classic story. Boxes within boxes!
Over in the superhero school of thought, DC have their annual Holiday Special to warm the cockles of your heart, after which you'll be ready for the triple-X-Men-threat of Genext United (The future children of the X-Men unite!), X-Men/Spider-Man (The X-Men and Spider-Man team up during different parts of their history!) and Nation X (The X-Men have their own island! And... stuff... happens on it?). If all of that sounds too much, we'll direct you to the much-anticipated-by-us Spider-Man And Secret Wars, a new series that retells the classic story with far fewer dated references.
Elsewhere, Image have a new Tank Girl special, Tank Girl: Nuggets to offer up festivities for kangaroo lovers. There's also Pilot Season: Murderer, a one-shot that you — yes, you — could help make into an ongoing series about a man who is compelled to kill in order to keep living.
But as topical as that may sound, it doesn't come anywhere close to being book of the week. No, that honor belongs entirely to the first issue of Daytripper, a new series by Brazilian brothers Gabriel Ba and Fabio Moon that is as beautifully written as it is illustrated (Visually, it's easily one of the best things you'll have seen this year); admittedly, it's not the most io9-friendly story — it's very grounded in real life, at least in the first issue — but, having seen the first two issues in preview, it's definitely something we'd recommend as one of the best things we've read in a long time.
As ever, the complete Diamond Distributors shipping list will tell you everything that's hitting stores tomorrow, and the Comic Shop Locator will tell you where to find said stores. We just hope that, by the time you get there, you'll be more in the mood for magical realism than killing people.