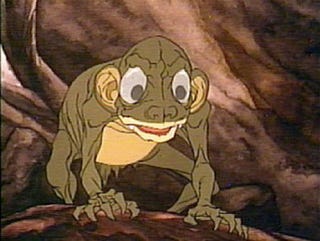 There's a flood of Hobbit news: Peter Jackson sounds determined to release his Tolkien adaptation in 2011, in spite of all the delay rumors. There may be a new female character, and Bilbo Baggins may be an unknown.
In an interview with Collider, Peter Jackson crushed the rumors about a 2012 release, and confirmed that the plan still is 2011 in December, which is soon, really soon. Methinks he may be singing a different tune come July.
Meanwhile, who's going to play Bilbo? IGN asked Jackson about the many actors that have been rumored to be in line [Daniel Radcliffe, Martin Freeman, James McAvoy and David Tennant]. Are any of them actually in the running? Jackson wouldn't rule any anyone out, because some of the names mentioned were not under consideration, and he didn't want fans to figure it out based on the process of elimination. Plus, he's still looking for an unknown that may be able to fill the role of Bilbo. (And presumably, handle his accelerated filming schedule, without any conflicts.)
Next, ultimate Tolkien site The One Ring, has the news that there's casting calls going out for — gasp — a woman to appear in this film. And since they probably wouldn't be casting bit parts and extras at this point, the fans speculate that maybe there's a she-dwarf in the mix. Or maybe it's the voice for something. And there are a lot of somethings lurking about in the woods and hills in this book. So your guess is as good as ours.
And finally, AICN Downunder is reporting, on top of their Brian Cox dwarf rumors, that Tom Waits may be joining the film as well. Both are still unconfirmed, and no one is sure what Waits would be cast as, so the whole thing is mere talk at this point. Still the man was amazing in Dracula and Dr. Parnassus, so nether he nor Cox would be a tough sell.