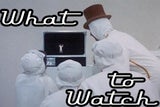 With regular shows beginning to go on holiday hiatus, you'd think this might be a dull week on television, but you'd be very wrong: Doctor Who marathons! Better Off Ted returning! Lots of disaster movies! We love you, television.
Monday
With Heroes and House both taking a break for the holidays, it falls to Syfy to keep us entertained today, and they're definitely trying their hardest, with Stargate: The Ark of Truth at 9am, followed by Stargate: Continuum at 11.
Meanwhile, if you went down the rabbit hole last night, you'll be happy to know that Alice continues (and concludes) at 9pm.

Tuesday
Even if the day wasn't almost entirely otherwise devoid of SF entertainment, the return of ABC's Better Off Ted (ABC at 9:30pm) would still be at the top of our to-do list. In the first episode of its new run, the employees of Veridian Dynamics find their thoughts turning to reproduction, as Ted and Linda meet their genetically compatible matches, while Veronica tries to convince Lem to donate to a sperm bank. Oh, Ted. How did we get by without you?
If satires on corporate America are a little too close to the bone, then try the first episode of Outer Space Astronauts on Syfy (also 9:30); it's a new sitcom set in outer space - Maybe you missed that in the title - but we're a little worried about it based on the episode description being "Capt. Ripley invites aliens over to the O.S.S. Oklahoma for a pizza dinner, but the aliens want the ship, too." Uh, hilarity may ensue?
Wednesday
Oh, Syfy. With a Jericho marathon from 8am through 3pm, you know how to spoil us. From there until 9pm, it's a bit of a science fiction wasteland in terms of things that aren't re-runs, so consider it the Television God's way of telling you to leave the house and go and do some holiday shopping or something. Then be back in front of the visual entertainment box in time for 9 o'clock, when Discovery has a new episode of Mythbusters, with Jamie and Adam putting more gunslinging myths to the test.
Thursday
Remember 1990s SF vampire series Kindred: The Embraced? I definitely don't, but Syfy is looking to remedy my oversight with a marathon of the entire 1996 series starring former Soul Man C. Thomas Howell, starting at 8am.
Otherwise, with FlashForward, Vampire Diaries and Supernatural already in reruns, it falls to Fringe to keep the science fiction flag flying with its new episode "Grey Matters" at 9pm on Fox. Featuring the return of Leonard Nimoy as William Bell:
Friday
Get your day started off in the right way with Syfy's Outer Limits marathon, starting at 8am. You'll only wish it was Twilight Zone a couple of times, honest.
Depending on who you believe, there's either a rerun or new episode of Batman: The Brave and The Bold on Cartoon Network at 7pm (If it's a new episode, then it'll be the Plastic Man-guesting "Long Arm Of The Law," but some schedules have last season's "Duel of The Double Crossers!" listed. Your guess is as good as mine at this point).
But even if it is a new episode, that might not be enough to steal your attention away from Syfy's Sanctuary mini-marathon, starting at 7pm and ending with a brand new episode, "Penance," guest-starring Amanda Tapping's fellow former Stargate cast member Michael Shanks, at 10pm.
Or you can keep up with the latest double bill of Dollhouse on Fox at 8pm, with the "Meet Jane Doe"/"A Love Supreme" match-up offering Topher discovering the potential effects of science, Echo losing control of her multiple memory downloads, and the return of Alpha.
Once that's done, you might find yourself switching over to Sky Captain and The World of Tomorrow on Cartoon Network at 10pm, just to look at how shiny the whole thing is.
Saturday
It's All Disaster Movies All Day on Syfy, starting with Earthstorm (9am) before offering up Meteor (11am), miniseries 10.5: Apocalypse (1pm), Ba'al: The Storm God (5pm), Ice Twisters (7pm), Annihilation Earth (9pm) and finishing with Disaster Zone: Volcano in New York at 11pm. Why so many disaster movies? Why not? Over on BBC America, there's a Doctor Who triple bill of edited versions of "Journey's End", "The Next Doctor" and "Planet of The Dead" starting at 7pm, but you should really wait until tomorrow, for reasons you'll discover in a second.
Sunday
...What's that, you say? A Doctor Who marathon on BBC America starting at 1pm, including 1hr 15 minute (ie, unedited from U.K. broadcast, apart from ad breaks) versions of The Next Doctor and Planet of The Dead? I thought you'd say yes. The full rundown of episodes is:
1pm: Voyage of The Damned
2pm: Turn Left
3pm: The Stolen Earth/Journey's End
5:30pm: The Next Doctor
6:45: Planet of The Dead
All of this is a lead-in to next week's premiere of "The Waters of Mars," and the following week's "The End of Time," of course. But do you care why it's happening, as long as it's happening?