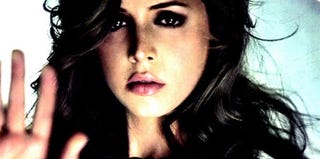 We weren't the only ones left unconvinced by Summer Glau's guest-appearance on Dollhouse this Friday: The show returned after its month break with audiences staying at a series low.
Around 2.1 million viewers watched Friday's double bill according to early reports, matching the series low and coming in last in its regular timeslot, behind a Muppet Christmas Special re-run and the soon-to-be-moved-to-Wednesdays Ugly Betty (It beat a Smallville rerun on the CW from 8-9pm, however; it was only last from 9-10pm).
Considering many were expecting some kind of ratings bump from the Summer Glau guestshot, we're wondering: Was there a Glau bump that offset what would, otherwise, have been another drop, or did the month-gap between episodes and cancellation announcement kill any potential enthusiasm in the show? As both FlashForward and V go off the air until March amid rumors of low ratings, ABC may want to think about that last option and think about ways to remind people about both shows during their three month-long breaks.