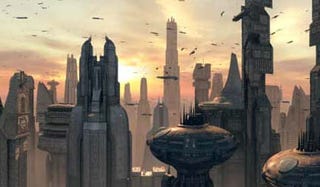 If you're in the New York area, come out to meet your fellow io9 readers (and editors) on Thursday, the 12th, from 8-10 PM at The Magician bar. We couldn't have a meetup on Coruscant, so we'll settle for NYC.
Charlie Jane and Annalee (that's me) will be in NYC next week, and we're dragging Meredith along with us to host the io9 NYC Meetup. We'll be in the back room at The Magician, from 8-10 PM (and probably a little later to be completely honest).
Free drinks to the first ten people who find me (I'll be in wearing a tie) and tell me what their favorite scifi novel of the past year is. Depending on how drunk I am, I MAY be persuaded to buy drinks for people who can name a favorite indie scifi movie, but this is not guaranteed.
See you Thursday!