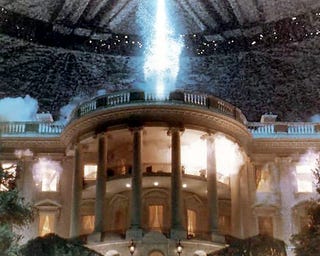 We've known for a while that Roland Emmerich is readying a sequel to his White House-exploding alien invasion movie Independence Day. What's taken him so long? He was just waiting for the right president to take the Oval Office.
After Independence Day brought us Bill Pullman as the inspirational President Whitmore, Emmerich didn't feel the spirit of the film was compatible with the times of the Bush administration:
"In Independence Day, it was about a king who leads his country into a fight against an outside invader. I didn't want to make that movie during the Bush years. It was not thought that George W. Bush would have made a great king. Now with Obama, it's another story."
The sequel would, in fact, focus on the US President, but it's still plagued by funding woes and disagreements between Emmerich and Fox as to whether to bring back Will Smith. But Emmerich seems determined to return to the universe of what he calls his "defining film."
Roland Emmerich Wants To Make Independence Day 2 Because Of Obama [Cinema Blend]