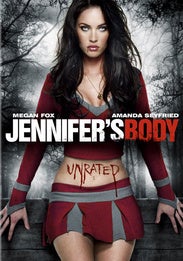 Remember how all the clueless boy-oriented sexbot marketing killed Jennifer's Body, which is actually a nightmarish chick flick about how best friends can turn into monsters? Seems like FOX is still riding the clueless train with its DVD marketing scheme.
This DVD cover for the unrated version of the film is all over the interwebs today, and it's just more of the same monster pinup crap that misrepresented the movie in the first place. If you want to see scantily-clad ladies undulating, go rent any number of other fine movies in the SF and horror genres. I highly recommend Pervirella or The Perils of Gwendoline in the Land of the Yik Yak.
But if you want a smart, weird movie about what happens when BFF goes WTF, rent Jennifer's Body and ignore the cover. This is a great B-movie that uses monsters and demons to tell a story about how co-dependent and poisonous high school girl friendships can be. It's about how Megan Fox is a monster, not eye candy.
Poster image via Bloody Disgusting