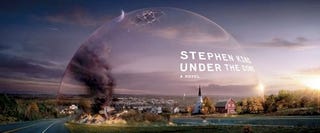 The latest mega-novel from Stephen King is out, complete with a bloody book trailer. Find out what happens when the government decides to permanently isolate a town and its inhabitants forever.
King's attempted to finish this book twice before, but it's finally all done. Here's the official synopsis:
On an entirely normal, beautiful fall day in Chester's Mill, Maine, the town is inexplicably and suddenly sealed off from the rest of the world by an invisible force field. Planes crash into it and fall from the sky in flaming wreckage, a gardener's hand is severed as 'the dome' comes down on it, people running errands in the neighboring town are divided from their families, and cars explode on impact. Dale Barbara, Iraq vet, teams up with a few intrepid citizens against the town's corrupt politician. But time, under the dome, is running out....
Right now if you head over to the Dome site, the entire 336,114-word book is broken down into over 5,000 chunks. If you have the, time and the talent, try organizing the thousands of paragraphs into one fluid novel.