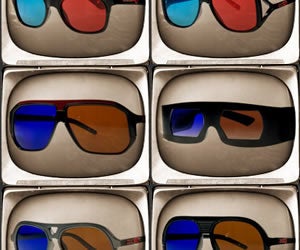 Considering staying away from Avatar because you think you'll look stupid in the glasses required to get the full effect? Of course not. And yet, that hasn't stopped RealD from signing a company to design a more stylish alternative.
With a range of designs with names like "The Rockin'" and "The Wassa," the company known as Look3D aims to offer moviegoers an alternative to their traditional 3D glasses, but that's not all, according to RealD president Joseph Peixoto:
Like people having a pair of sunglasses, movie fans will have a pair of RealD 3D glasses personalized in style and fit, and certified by RealD to assure a fantastic movie experience. We look forward to additional announcements about the introduction of designer 3D glasses from top fashion brands and prescription RealD 3D eyewear in the near future.
Designer 3D glasses? Prescription 3D glasses? We can't work out if this is the sign of the apocalypse, or a sign that 3D is here to stay. Or perhaps both.
Look3D to provide premium eyewear for RealD [Film Journal International]