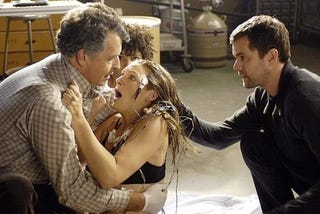 Good news and bad news folks. First, the good news: Heroes may have finally wrung out its last plot twist. But sadly, Fringe may be the next to fall as well.
Airlock Alpha says inside sources at NBC claim that the writers for Heroes are being told to prepare themselves for the series finale this May, giving them a chance to wrap up all their storylines before then.
"There isn't much happening with this show in terms of audience, and giving it a 'final chapter' feel is something the network is considering to help allow the show to go out with a bang," said the source, who asked not to be identified."
In much sadder news, J.J. Abrams' Fringe is being marked as "in trouble" by TV Guide. The show's ratings have taken a dive in its second season, and many fear it won't get a full second season. If you need your weekly Walter fix, now's the time to start proselytizing — get all your friends to watch!