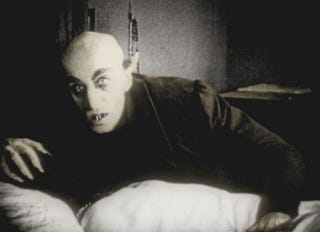 21. Count Orlok - Nosferatu
He may not be the first vampire, but he's arguably the scariest. With his talon hands, bald head and rolling eyes, the Count's silent saunter across this black and white film brings chills down our spines.
22. Demon - Paranormal Activity
It may be an extremely hyped film, but we're not above giving scare cred where it's due, and the jerk demon is exceptionally frightening.
23. - 28 Weeks Later
Robert Carlyle's super-smart zombie character is not only terrible before he's infected, when he carelessly tosses his wife's life aside for his own, but his guilt and stupidity ends up costing the lives of thousands of survivors.
24. Dracula - Francis Ford Coppola's Dracula
He's dramatic, suave, drinks blood and has sex with your best friend as a giant wolf, bat damn if Gary Oldman doesn't do it in style. This scary character is so bad-ass and frightening that you actually want to make him your friend.
25. Mothman - The Mothman Prophecies
Real or fake the lore surrounding the red eyed Mothman just adds to the hype of this world straddling character. But he really hits his stride when whispering ch-ch-ch-chapstick into the phone. Scary because you think he's real.
26. Upstairs Penthouse Tenant - Quarantine
Just when you think it's safe, Doug Jones comes out and scares the ever-loving crap out of you.
27. Chatter - Hellraiser
The most terrifying of the Cenobites to come out of Pinhead's hell world.
28. Sil - Species
Delightfully deadly — we've never seen a hotter alien succubus. But she definitely freaked us out when she changed her entire look to attract the perfect mate.
29. Gozer - Ghostbusters
Man or woman, spirit or physical demon. Gozer challenged the supernatural world with her gender-bending look and hot as hell hair cut. We'd let her be our overlord, spiritual overlord, that is until she sicked her dog demons on us.


30. Freddy Krueger - Nightmare on Elm Street
Even when he's cracking the worst one-liners known to man, he still has a fist full of knives and isn't afraid to use them on you, whist you sleep soundly.