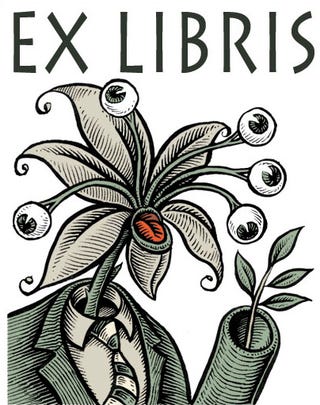 We always suspected the lush, surreal covers of Germany's 1919 fantasy magazine Der Orchideengarten would drive people to madness... and now it has come to pass. A Journey Round My Skull posted more Orchideengarten images, and sponsored a bookplate contest.
A Journey Round My Skull joined Feuilleton and Arthur Magazine in posting a slew of new covers and illustrations from the beguilling German magazine. Here are a few of our favorites, and you absolutely must check out the rest over at the individual sites.
And then in a further paroxysm of art-inspired debauchery, AJRMS sponsored a contest to create bookplates similar to the Orchideengarten style, and the results are fantastic. I would never dare steal a book from your library if it bore one of these insignia. Here are a few of the best, but they're all worth checking out.