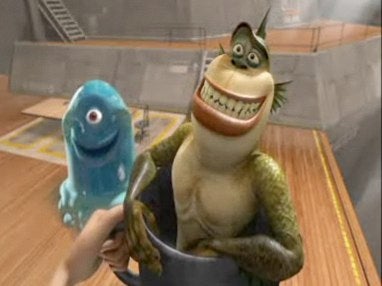 Monsters Versus Aliens will not become the next CG franchise - sorry, Insectosaurus, you'll have to be put down. Take a look at their last gathering in this Halloween special clip.
Sad news for the playful and clever collection of CG pals cast in Dreamworks Monsters Versus Aliens. While taking a conference call, Jeffey Katzenberg explained why the monsters needed to be put down:
I'd like to tell you there's a perfectly rational, clear and easy answer as to why not, but there isn't. There was enough of a consensus from our distribution and marketing folks in certain parts of the world that we would be pushing a boulder up a hill.
In my humble opinion, nobody knows how to market animation anymore, except Disney/Pixar. This makes me sad because I was dearly hoping for an Insectosaurus stuffed animal, and it was all but impossible to find. Still haven't seen it in stores. But besides the marketing the movie fared pretty well in theaters and was wildly entertaining. So this is sad news.
Sadly this will be the last time we spend with our dear Monster friends, in this brand new Halloween special clip, on Tonight! That is until they get their own TV show...
[via Slashfilm]