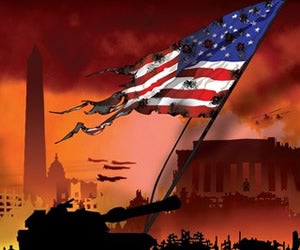 J. Michael Straczynski is teaming up with uber-producer Jerry Bruckheimer to destroy America. The Babylon 5 creator has just been announced as the writer to bring post-nuclear civil war videogame Shattered Union to the cinema screen.
The game, released in 2005, takes place in a new American civil war as the United States fall apart following a nuclear attack on (and destruction of) Washington DC, with both Europe and Russia (which annexes Alaska, presumably to the upset of Sarah Palin) getting involved and bringing the world to the brink of a third world war.
Pirates Of The Caribbean and Prince of Persia executive producers Mike Stenson and Chad Oman will work with Straczynski on the movie, which Bruckheimer's production office is handling for Disney. Is it too much to hope that the movie will have some of the game's political satire instead of just another actioneer?
More perfect 'Union' for Mouse, scribe [Variety]