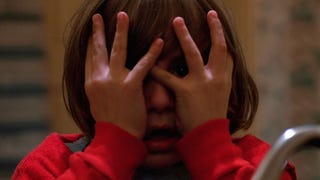 This week we honor the most important holiday of the year - Halloween - with a celebration of all things horrifying. We'll tell you all about the scariest pop culture and spooky science. Plus, there will be gorgeous costumes.
It's horror time, which means galleries, triviagasms, essays and reviews about everything from classic horror writers to the scariest villains. There will be a special weeklong smackdown series where you vote for which monsters would win in cage matches. And we'll bring you reviews of scary movies and TV to watch this week.
When you finally figure out your costume, post a picture of yourself in our io9 Halloween Costume Show pool on Flickr - we'll be featuring the best of those this week (pre-Halloween) and next week (so you can send us shots from Halloween night!).
So get ready to get scared - or at least a little freaked out.